Struggling to manage your company's expenses? You'll love this tool.
Aristou Admin
82% of businesses fail because of poor cash flow and expense management.
It makes sense – after all that's a saying that goes: "Revenue is vanity, profit is sanity, but cash is king."- Unknown
No doubt fascinating, nonetheless.
In this blog post, we will be sharing about this
1 secret tool
that you absolutely need for your business- especially if you're struggling to manage your company's expenses.
Introducing: Continia Expense Management 365.
What is Continia Expense Management 365 and what it does 
Continia Expense Management 365 (CEM)
is an expense management solution that enables easy tracking of expense claims. It allows you to streamline and automate every step of your business daily expense, mileage, and per diem management process.
It
enables employees who are WFH or remotely to create expenses with a single click by uploading the receipt either through the Expense App or Expense Portal. 
Managing your company's expenses has never been this ridiculously simple.
Sounds too good to be true? Read on.
The best part- if you're an existing Business Central user, there's no need for complex integrations
because it is fully integrated into Business Central. 
It enables easy tracking of expense claims as details are automatically synced and integrated to Business Central. You'll be able to connect receipts with cash and credit card spending within Business Central.
Who is Continia Expense Management for?
If you're in charge of a team that travels often for work and handles many expense claims, Continia Expense Management is for you. 
With this solution, your business travelers no longer have to go to the office to hand in physical receipts. Continia Expense daily collects activities and expenses from your team and, as a result, provides a clear overview of your company's expenses in real time. 
Continia Expense Management is the most comprehensive solution for managing your business expenses.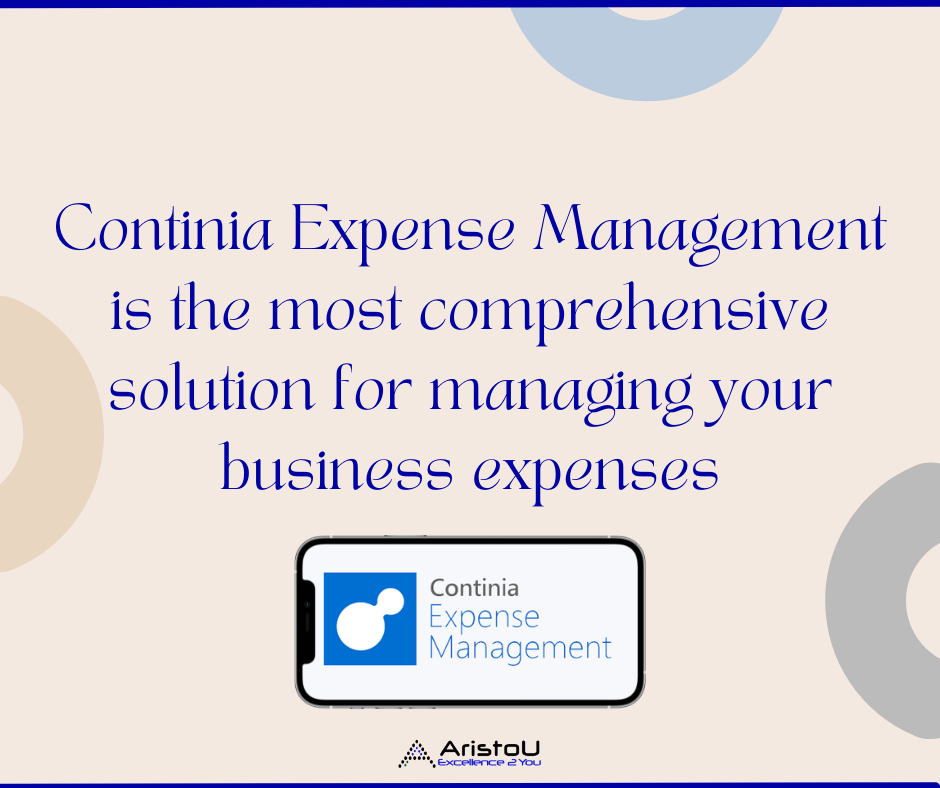 3 functions you need to know about Continia Expense Management 365
This solution provides easier-than-ever registration and approval of business-related expenses and travel activities using
1) Business Central, 2) Expense app, and 3) Web Portal. 
Let's have a deeper look at 3 basic functions of Continia Expense Management:
1. Hassle-free expense handling  
Obtain a complete, real-time overview of company expenses available before final approval

Total transparency- Expense Management ensures that all employee transactions are automatically imported into Business Central providing you with a complete overview of employee spending

Saves time- super convenient of going paperless
2. Match credit card transactions with expenses automatically 
Seamless integration with major credit card providers makes it easy to import credit card transactions, reconciling them automatically with expenses and follow up on missing expense documentation. 

Automation- If a receipt is missing for an expense, the system automatically creates an expense and sends it off to the right expense user. Say goodbye to endless follow ups and chasing your employees!
3. Create mileages 
Smooth integration of Google Maps ensures that users always get the correct route calculation and are reimbursed accordingly based on rates you control in Business Central. 

Always traveling via the same route? For recurring routes, expense users can easily create templates for these to save time on manual typing.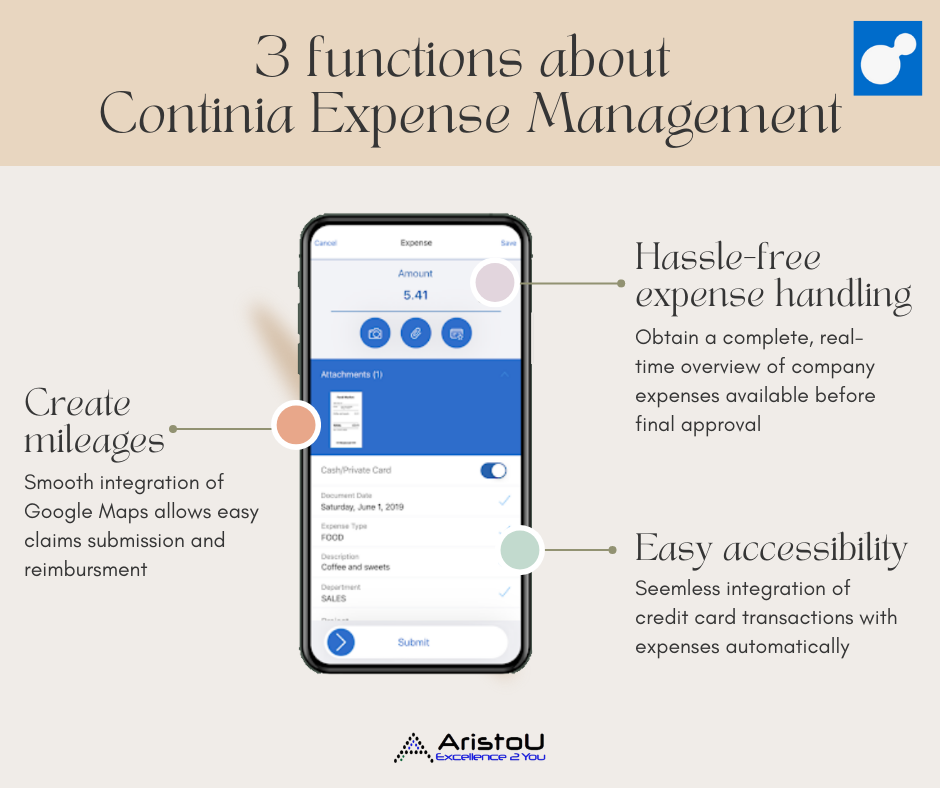 Benefits of investing in Continia Expense Management 365
Not only is Continia extremely compatible with Business Central and Microsoft Dynamics products, it also empowers your team to do their jobs more effectively and not waste time on troublesome finance admin. 
Below are 5 key benefits of investing in Continia Expense Management 365: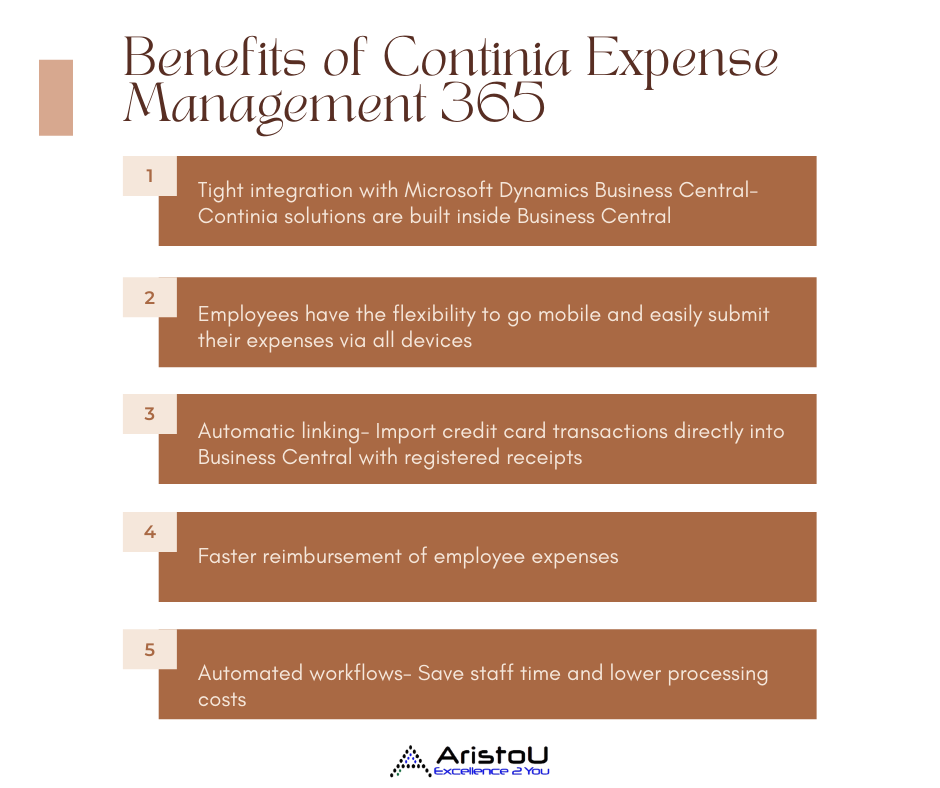 How to use Continia Expense Management
Now that we've gotten the technical aspects out of the way, let's talk about how to use Continia Expense Management. 
It's actually so simple, really. 
All you'll need to do is:
Upload the photo of the receipt 

Fill in the required fields

Approve expenses on the go

Have access to documents 24/7
Keeping track in real-time of your team's expenditures both in and away from the office has never been easier.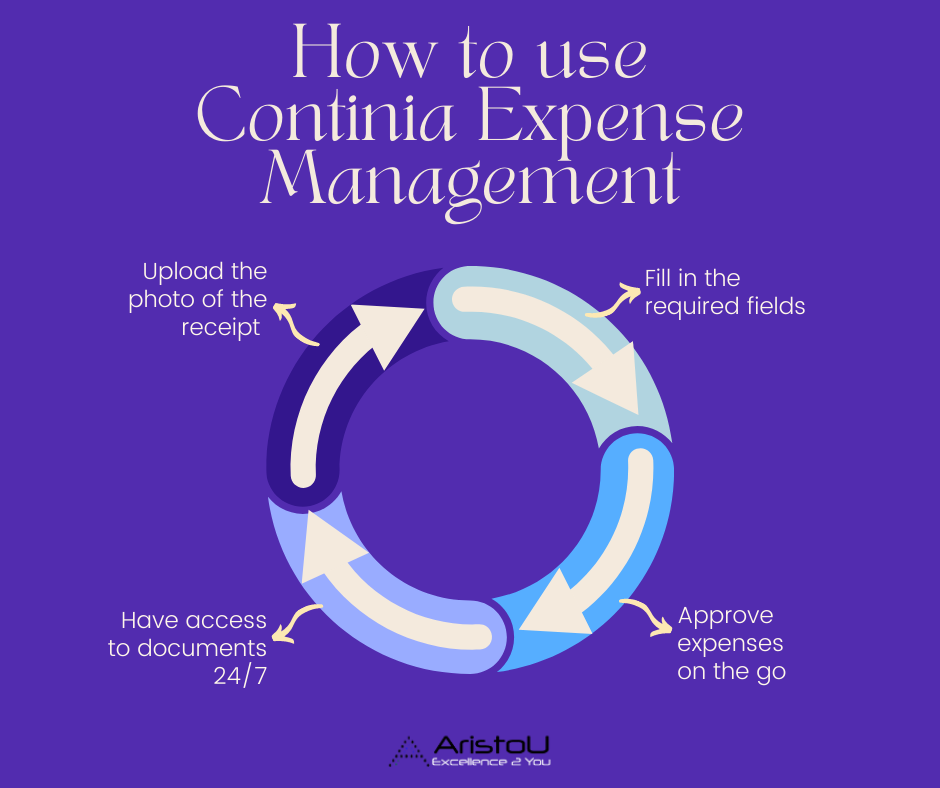 If you're looking for expense management software that can automate the process of submitting expenses while also providing real-time alerts when spending above certain amounts, then Continia Expense Management covers all your bases.
You're able to start your free trial by downloading the app. However when activating the solution, it is important to contact a certified Microsoft Dynamics partner like Aristou to assist you through the entire process.
😊
You can reach out to us today here to get started on a free consultation on your business needs with our team of experts at Aristou!