Omnichannel retail ERP- What is it and why it is important
Aristou Admin
What is the only constant in commerce? Change. 
What isn't a constant? How we approach retail.
"The omnichannel approach is the future of retail"- HBR (2012). A HBR research showed that 73% of consumers shop across multi channels- from physical stores, online stores, apps, social media, to over-the-phone, before making a purchase on the platform that is most convenient to them. 
In this article, we'll be covering what that is and several powerful reasons on why it matters- especially with ever changing consumer behaviors and trends, and how your omnichannel business needs an ERP software. 

Key consumer trends 2022
To the consumers of 2022, "going shopping" may be less about the actual act of purchasing and
more about the

holistic, omni-powered browsing experience.
As the landscape continues to evolve, the physical or online store of the future will evolve to become more

of an
experience.
This conversation cannot be written without including the pandemic that played a pivotal role in transforming shopper's journey. So how then, can companies optimize their customers' shopping experience? 
According to Nielsen (2021), there are 4 key things consumers want in every shopping experience.
They are: 1) Availability, 2) Curation, 3) Immediacy, and 4) Excitement.
When each of these 4 elements has been accounted for along the shopper journey, they shape new habits and heighten customer loyalty among today's omnichannel shoppers.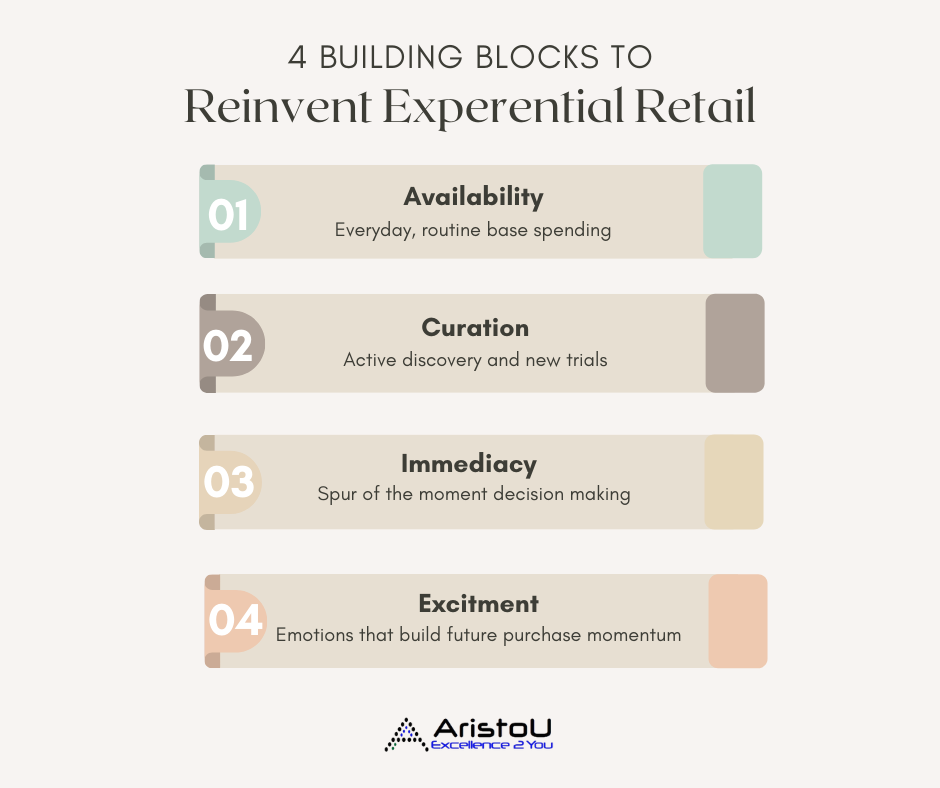 A quality shopping experience has the power to trigger both emotional and behavioral responses to shape new consumer spending norms that will linger throughout and beyond the influence of COVID-19. 
Allowing the consumer to take hold of the steering wheel, to be in control when they know they can get what they want, whenever they want it. Understanding when, why and how consumers shop online and offline is key to building trust and opportunity among shoppers. 

How do brands cope with the rise in "omni" experience?
The change in consumer trends thanks to the pandemic has resulted in the acceleration of cloud adoption solutions. To stay competitive amidst the consumer trends and economic environment requires new strategies and practices- a push in digital technologies.  
Study done by McKinsey (2021)– most respondents recognize technology's strategic importance as a critical component of the business, not just a source of cost efficiencies.
Below we cover more in depth of the 3 tools that enable a successful omnichannel experience.
Cloud Adoption

Shifts in Technology 

Role of ERP in Omnichannel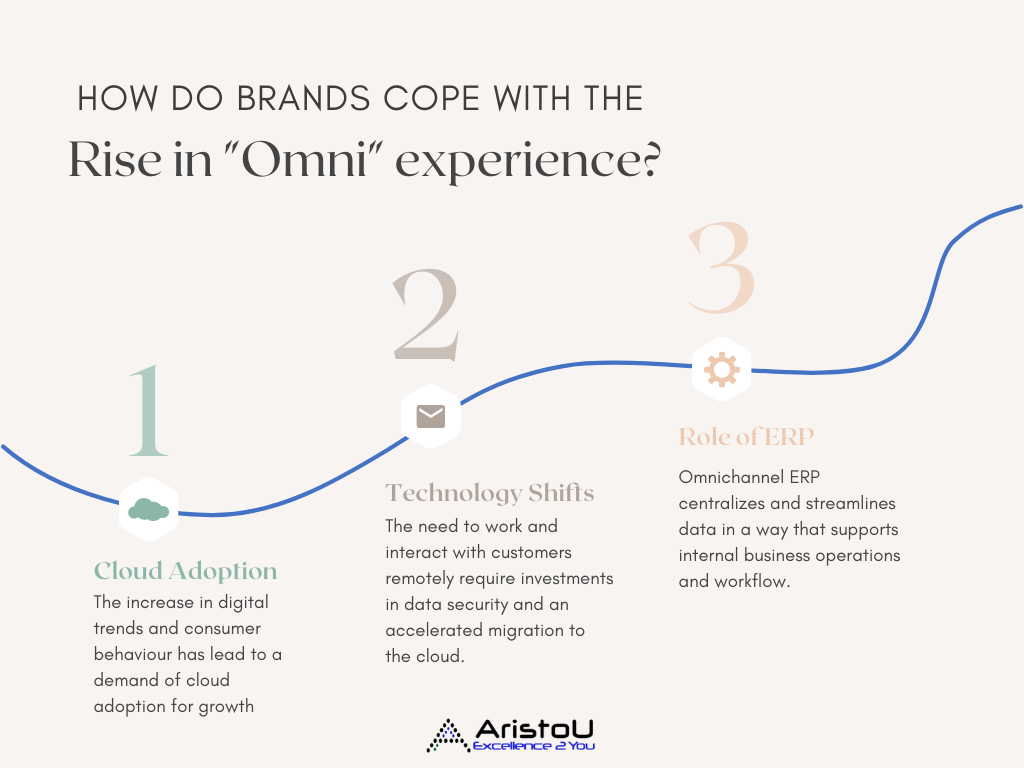 Let's have a look at them in more detail below.
1. Cloud Adoption Statistics
Omni Channel shopping experience

82% of consumers regularly turn to their smartphones when making purchasing decisions (McKinsey 2021)

This demonstrates strong dependence on mobile and web when consumers do research before purchasing
Omnichannel fulfillment preferences

Strong assortment planning and clustering capabilities are critical for omnichannel retailers

The need to access external data and demand analytics to help drive supply chain and inventory optimization decisions is key
Adopting agile omnichannel operating model

A brand's relationship with digital maturity will determine its success and its path forward

Striking balance between spending on store refurb vs spending on online & IT capabilities to support omnichannel development
2. Shifts in technology due to the pandemic and consumer trends
The need to work and interact with customers remotely required investments in data security and an accelerated migration to the cloud. 

Remote working and cloud migration are the two that respondents say have been more cost effective than pre-co-vid norms and practices.

The changes that best meet customer expectations are: being able to respond to the increasing demand for online interactions and to changing customer needs. things like:

Omnichannel retail ERP
3. The role of ERP in Omnichannel retail
You've heard of omnichannel, and you've heard of ERP. But what exactly is Omnichannel retail ERP? 
Omnichannel retailers will need to access external data and demand analytics to help drive supply chain and inventory optimization decisions. 
Hence, the role of ERP is extremely pivotal in creating a successful and robust omnichannel approach. 
Let's explore more ways on how ERP assists with omnichannel retail in the section below.
What is Omnichannel Retail ERP?
Omnichannel Retail ERP is an ERP system which is integrated with omni-channel retail backend to centralize and streamline data in a way that supports internal business operations and workflow. 
Retail ERP synchronizes and automatically updates the data on all sales platforms as well as on devices which serve the buying process. It takes your entire retail stores as a whole, moves information and performs tasks from one section to the other seamlessly. 
Below are 4 key ways how ERP supports your omnichannel strategy:
Single view of customers across all omnichannel retail platforms

Real-time visibility of your entire business

Remote access and security (cloud)

Adapting to consumer shopping behavior
With Omni-channel retail ERP you can solve the complexity of managing different sales channels. It offers a solution where you can manage all different channels at one place. 
Retail omni-channel ERP offers a one stop solution to manage and update data on all platforms at one place, thus increasing the operational productivity.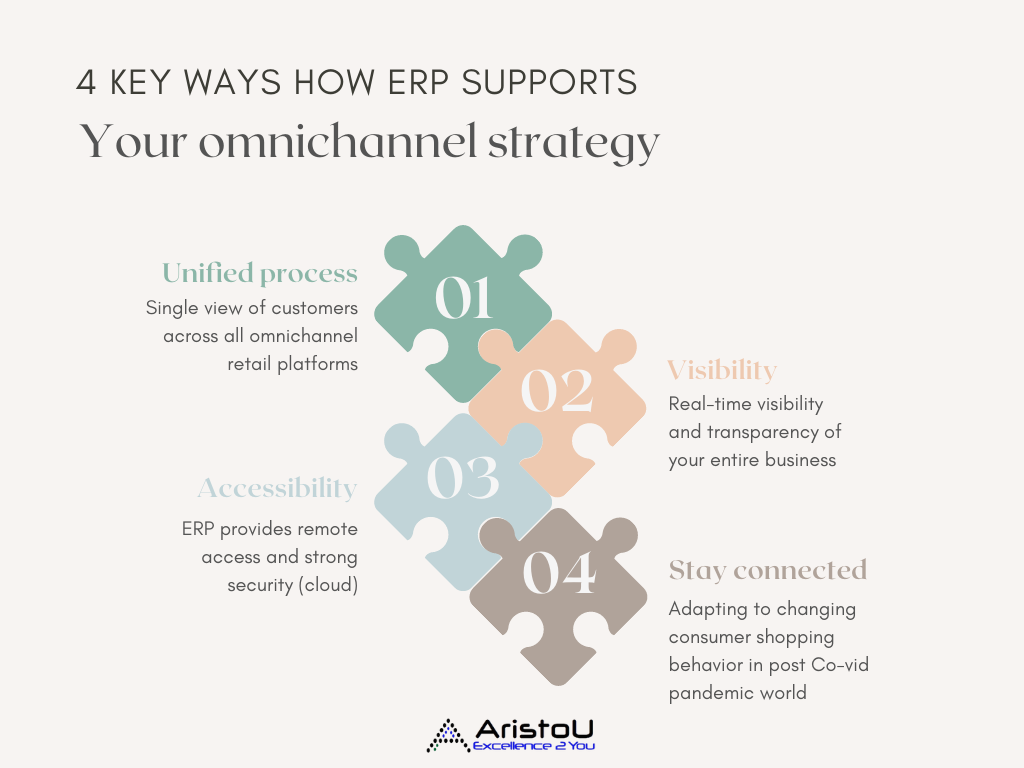 Is your retail business ready for ERP?
The next most important question is: how do I know if my retail business is ready for ERP?
Here are 4 sure proof ways to tell if your retail business is ready to go to the next level with ERP. 
Looking to scale

Multiple locations/outlets

Multiple softwares used for multiple processes

Sales and Customer experience are suffering
To find out more about the 4 signs that your retail business is ready for ERP, stay tuned for our next article! 
In a world where change is the only constant,
organizations are shifting gears to build stronger foundations to adapt with changing consumer trends and the rise of omnichannel retail.
Utilizing cloud adoption and the likes of ERP, companies that develop a nuanced understanding and habits of their target consumer bases will be best positioned to thrive in the next normal.
To learn more about why a cloud-based ERP provider like Microsoft Business Central and a trusted partner like Aristou is ideal for your business, click here.