Power BI vs Tableau- which is the better business intelligence tool?
Aristou Admin
Who runs the world?
Data.
The future of analytics is here to stay and more companies are prioritizing business intelligence. 
You've heard of it, you've read articles on it, but what exactly is the hype on business intelligence really about? 
In this blog post, we'll be diving into the overarching term of Business Intelligence, and a deep dive into 2 of the hottest BI tools in the market: Power BI and Tableau.
Wondering what's the difference and which tool to use? Keep on reading!
What is BI and why is it matters
Business intelligence (BI) is a broader term that covers the processes and methods of collecting, storing, and analyzing data from business operations or activities to optimize performance. 
In other words, it is a
cluster of processes
, architectures, and technologies that collectively contribute to informed decision-making.
The overall objective of BI is to make sense of the vast amount of data accumulated within the information systems of enterprises using data analytics, data visualization, process analysis, etc.
All these things come together to create a comprehensive view of a business to help management make
better, actionable decisions and improve performance
.

So, Power BI or Tableau? Which one you ultimately choose simply depends on how you need to use these tools in your business.
Just to recap: Tableau Software and Microsoft Power BI compete against each other in the Business Intelligence (BI) Data Visualization Analytics Dashboard Data Analysis. 
Let's dive right in!
What is Tableau?

Tableau is a business intelligence software that visually represents data from varied sources to create interactive and shareable dashboards.
This tool has made the entire process of analyzing data and questioning your product-market fit, easier. It has various in-built features for data exploration without getting overwhelmed by the software elements.

What is Power BI?

Power BI was introduced by Microsoft to combine the multiple data visualization features into one. Power BI comes as a package of three major components:
Power BI services

Power BI Desktop

Power BI mobile app
With these three components, Power BI lets you create a data-driven insight into your business. Based on various roles, you can leverage Power BI to your benefits like creating reports, monitor progress, integrate APIs, and many more.

For 13 consecutive years,
Gartner
has recognized Microsoft as a Magic Quadrant Leader, followed by Tableau in a close second as a leader in the analytics and business intelligence space. (see diagram 1).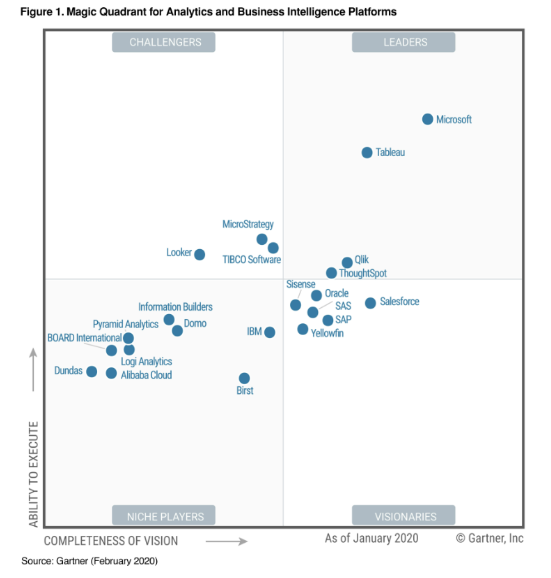 Diagram 1
Deep dive comparison between Power BI and Tableau
Below is a snapchot of the feature comparison between Power BI and Tableau, adapted from TrustRadius Research (2022):

Let's further explore the comparison between these 2 tools with a deeper analysis below:
Power BI
Tableau
Winner
Pricin

g

Free version

Power BI Pro – $9.99 per month per user

Power BI Premium- $20 per month per user.

Power BI

Target Audience

Expert and novice users (non-technical users)

Experienced data analysts (technical users)

nil

Market Share

Microsoft Power BI's 13.80% in BI market (2022)

Tableau Software has a 15.79% market share in BI market (2022)

Tableau

Product Linkage

Sits with Microsoft Dynamics product suite, best BI if you're on the MS ecosystem

Power BI

Deployment options

Cloud, Windows, On-premise

Cloud, Windows, On-premise, Mac, Linux

Tableau

Data sources

Join data directly from multiple sources

file (txt, csv, excel, Google sheets), SQL & NoSQL data sources.

Join data directly from multiple sources

file (txt, csv, excel, Google sheets), SQL & NoSQL data sources.

nil

User friendliness

Better for ease/user friendliness

Intuitive features combined with drag and drop help teams build their visualizations without complex steps.

Good if you have prior experience with data analysis, not as intuitive as Power BI

Requires time and effort to learn the platform

Power BI

Community

Access to natural language query tool- type a question and Power BI answers- highly accessible and convenient

Extensive database connectivity capabilities Q&A feature published to the web.

Strong tableau online community with

documentation website with Q&As

Tableau has been around longer than Power BI, so the community is larger

Power BI

Differentiation

Reporting, sharing data, Excel + power BI- optimum strength and agility

Advantage of real time data, teams can react instantly to business changes fed to Power BI from the CRM, project management, sales, and financial tools.

Self documenting, easy to use

Identify real trends, unlike Tableau

Power BI can automatically search hidden insights

Power BI uses DAX (reusable formulas)

Data Visualization

Live query capabilities and extracts, helpful for data analysts who are used to stopping all work for the query process

Data shaping more complicated, users go back and forth from excel and tableau

Tableau uses MDX (Multidimensional Expressions).

Nil
When to use Power BI, and when to use Tableau?
If you are…..an experienced or beginner user, l
ead for user-friendliness, budget-friendly, an existing user of other Microsoft products,
….then Power BI is for you.
If you are….a data analyst, have prior data analysis experience, appreciate
speed and capabilities, have a larger budget, 
….then Tableau is more suitable for you.
Ultimately, there is no right or wrong tool to use.
Each tool has its pros and cons and fits different needs and requirements.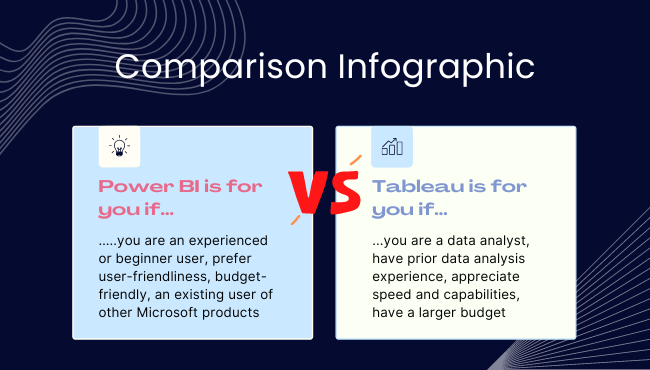 If you're struggling to decide which tool to begin your BI journey with, we strongly recommend starting with Microsoft Power BI suitable for both experts and amateurs. 
Power BI stands tall in the market, mainly based on the ease of use and prompt Microsoft Help available for the tool- and extra bonus if you're already within the Microsoft family suite of products!
Aristou has been working with our clients to formulate seamless

BI solutions
based on Power-BI and Cloud Analytics among a few.
If you're in doubt whether Power BI is the business intelligence tool for your organization and you are looking for a reliable, trustworthy and long term implementation partner, reach out to us today for a free consultation with one of our experts here!