5 key secrets all ERP project managers must know
Aristou Admin
What do you call an accountant without a spreadsheet?
Lost! And what do you call an ERP implementation without a project manager? The same thing!
😎
For any project to be successful, it requires a leader and in ERP implementation- we call them project managers.
ERP system implementations are large and highly complex IT projects that can impact virtually every aspect of a company, including vendors and customers. Business processes are adjusted while implementing new technology and both impact the day-to-day jobs of employees. 
This blog post will dive further into the significant role a project manager plays and 5 key things to take note of in ensuring a successful implementation.
First, let's take a look at the 6 core phases an ERP implementation entails.
6 core phases involved in an ERP implementation:
Discovery and planning

Design

Development 

Testing

Deployment

Ongoing technical support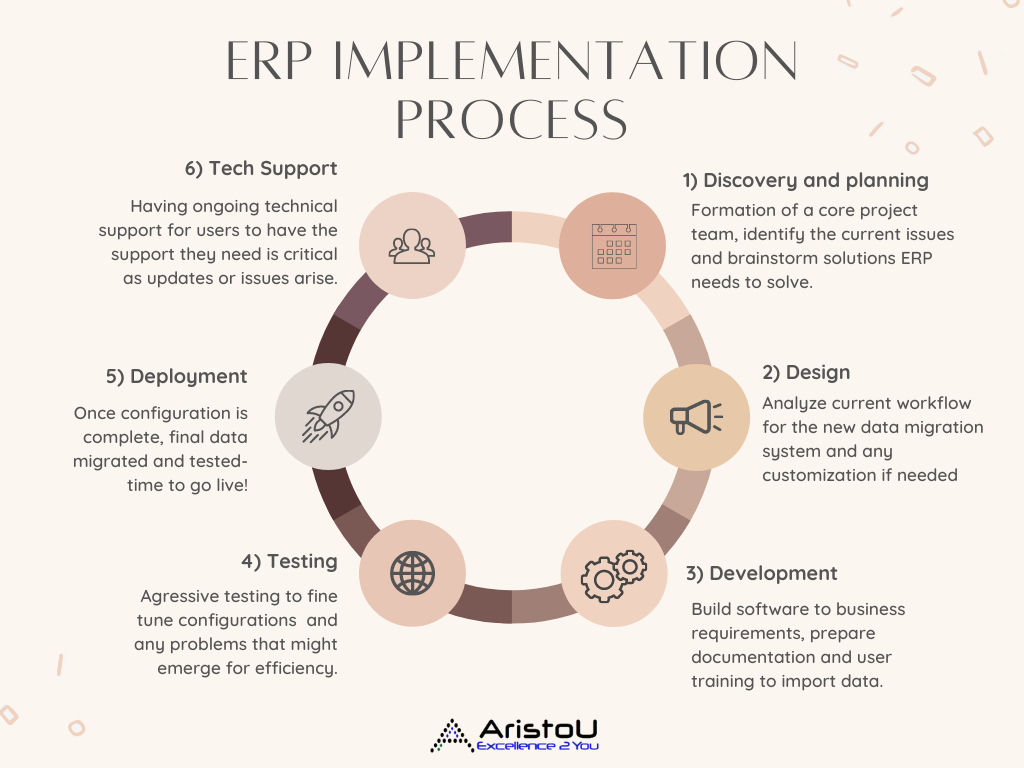 What role Project managers play in ERP implementation
Who's in the driver's seat? The project manager. For any project to be successful, it requires a leader- ERP implementation is no different. 
The project manager fills an essential role by leading the organization, setting the tone for the overall project and helping to escalate and manage issues as they arise. They lead the team and are ultimately responsible for the success or failure of the implementation. 
They are the glue in every ERP project, and a worthy investment for any company.
4 key areas to ensure a successfully BC implementation
1. Use customization to resolve project gap
🖥️
Every business is unique. For ERP softwares like Microsoft 365 Business Central, it is highly adaptable specific to your business needs: your streamlined processes, terminology, and how your employees or departments connect and collaborate.

To resolve any project gaps, speak to your project manager on how Business Central offers different tools to build fully custom functionality or adapt what is already available out-of-the box.

Below are examples of custom changes to Dynamics 365 Business Central (Microsoft 2022):
Examples of customer changes to Dynamics 365 Business Central (2022)

🏭

Industry Insight

Capture industry-specific information about products and services

📊

Data Reporting

Connect to other in-house data repositories or legacy systems to reduce duplicate data entry

🌫️

Visibility

Hide data fields that are rarely or never used

🗂️

Reporting

Add a printable report covering legally required declarations for a specific industry

📊

Data Reporting

Create a role-specific dashboard and set of tasks for a unique organizational role, such as mobile purchasing managers, or recruiting specialists
Datelines, datelines, datelines!
⏱️
 50% of ERP implementations can be listed as failures because they've gone over schedule or budget, or both. 

Project schedule is a must to achieve realistic deadlines- clear implementation goals should be based on your organization's current pain points and future plans.

The scope of the project must be clearly defined and managed from the very beginning to avoid confusions, delays and cost overruns that ultimately will affect total cost of ownership.
Time / Cost must be measurable
📈
As the saying goes: " If you can't measure it, you can't manage it." It is crucial that time and cost is measurable in an ERP implementation project.

Identifying and measuring your baseline performance metrics for the implementation project helps with managing expectations. 

By knowing how you perform against these varied metrics, you can identify areas of improvement with the new system and monitor your achievement. 
Improve your soft skills
🤼
ERP implementations involve people as well as technology- just as individual business processes and systems need to work together, so do people.

Some of the most important ERP skills a project manager needs are soft skills: collaboration, teamwork and conflict resolution.

Being able to communicate transparently and clearly to stakeholders and management about implementation's effect on their department is crucial for a successful working partnership.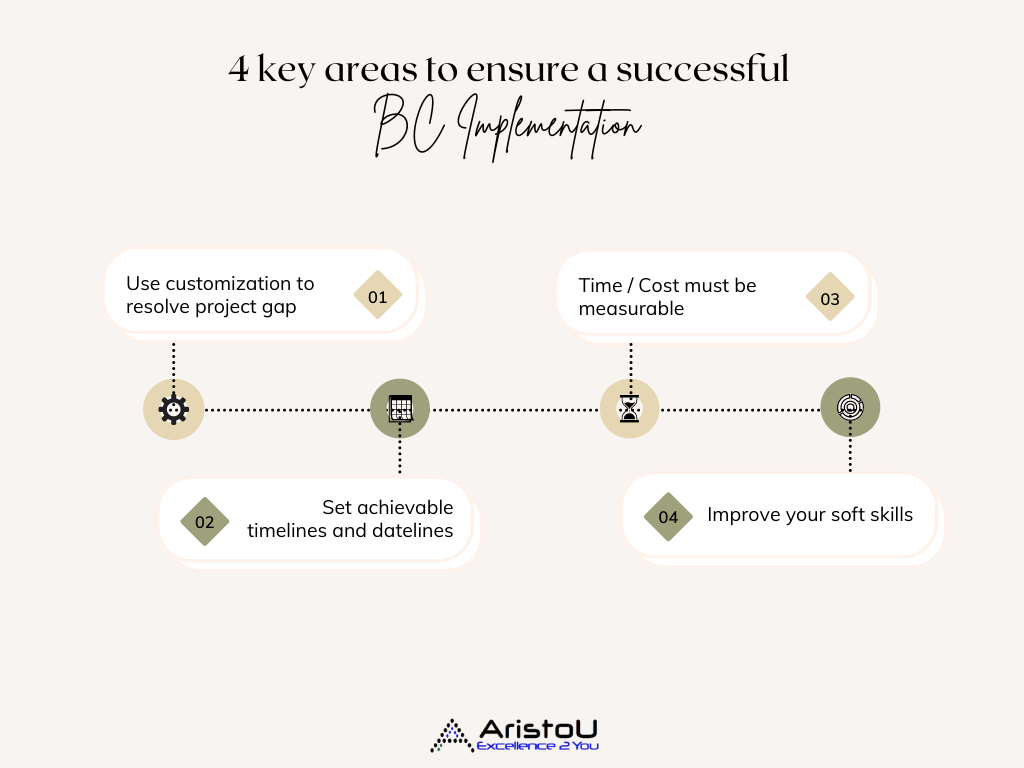 5 ERP Implementation best practices for first timers
1. Plan, plan, plan
📅
2 things: don't rush and plan meticulously. It is critical not to rush the initial planning and discovery phase.

This stage should create a solid foundation for the entire implementation project by ensuring the project has high-level backing, operates with a crystal clear plan and is allocated sufficient budget and personnel.
2. Invest in tech support and training
👨‍💻
It's important to plan and allocate resources for technical support, fix issues and provide updates. End user training is very important for users to feel comfortable and familiar using the system and exploring new workflows.

Careful work in these areas will allow your business to realize the full benefits of the system.
3. Plan data migration carefully
📊
A

key question to ask your team before deciding to migrate decades worth of data: Is 10-year-old supplier sales order information really valuable? Does every supplier in your list still exist today? If it's not, you can probably drop it.

The transition to an ERP system is an opportunity to clean up and account for the organization's data. It is recommended to comb through legacy data carefully, weeding out old customer accounts and detecting data inaccuracies.
4. Have a transparent and clear line of communication
💬
This is a given. The project manager should make it a priority to regularly communicate to everyone in the organization the reasons for the ERP implementation, the goals and benefits, and what to expect at each phase. 

Two-way communication is vital: The project team should listen carefully to user issues before and after deployment and keep the channel of communication open.
5. Document everything!
📃
Documentation is your ERP system's memory. Oftentimes you're going to have to remember exactly what you did in the process of setting up your system. Nothing's worse than not being able to remember what was discussed, or worse- having zero documentation to guide the conversation!

With 2 main teams involved, things often can get lost in translation. Documenting the entire process also mitigates the risk or any potential miscommunication.

Where there is no vision, the people perish. Regardless of where you are in the ERP planning stage, it is vital to have a strong project manager with a vision who can lead the team and project well.
If you're undertaking an ERP implementation project, it's critical you understand the expected benefits and justify costs. The process is long and complex, but if you know where to look, there are savings to be made – and efficiencies to capitalize on. 
This is where having the right ERP partner can also be the final piece of the puzzle for your business success.
Get in touch with our team of experts at Aristou, or fill up this form here now for a free consultation to find out if we are the ERP partner for you and how we can help you see opportunities to avoid pitfalls and incrementally improve your chances of project success, both in the long and short term.