Optimize your warehouse management system with Tasklet Mobile WMS
Aristou Admin
If your business sells products, chances are you have a warehouse space. If so, the following questions may resonate with you:
⭕Do you spend an awful amount of time on the receiving process in the warehouse?
⭕Is your inventory stock balance level inconsistent and filled with errors?
⭕Still using the traditional pen and paper to keep stock?
⭕Struggle to have a clear overall view of your warehouse inventory?
If you said yes to any of the 4 questions, we have just the tool for you. Introducing:

Tasklet

helps companies like yours to optimize warehouse management system processes. 
Keep on reading! 
What is a Warehouse Management System (WMS)?
The basic purpose of a WMS is to improve distribution center efficiency, labor productivity, customer service, decrease distribution costs, and monitor inventory levels. 
A good WMS can increase visibility, accuracy and throughput, and can also provide unique ID features for bar coding and RFID.
One powerful WMS
is the
Tasklet
Mobile WMS which is a user-friendly scanner solution to increase productivity and performance in your warehouse. 
With minimal changes necessary to your existing warehouse process, Tasklet easily optimizes your warehouse and operations. This hand held scanner solution is widely recognized as user-friendly and quick to implement.
The best part? Tasklet fully operates offline, which means saying goodbye to unstable internet connection in warehouses!
If you are using ERP systems Microsoft Dynamics 365 Business Central, you can be up and running in as little as two days. 
Who is Tasklet WMS for?
You're a perfect candidate for Tasklet WMS if…
You're an existing Microsoft Dynamics 365 BC user (only takes 2 days to implement) and have a warehouse

Looking to improve efficiency and reduce manual labor of warehouse inventory receiving process 

Looking for a solution for warehouse operational errors- resulting in backlog and time

Empower your employees productivity and improve accuracy of inventory data
Why should I use Tasklet WMS? 
All materials and resources are provided to equip you for warehouse inventory success and create better customer experience. There is no need to completely revamp your warehouse process as Tasklet Factory WMS makes it easy to integrate and simplifies your existing warehouse process.
Tasklet is suitable for all industries- from wholesale, distribution, healthcare, manufacturing, food, retail etc. 
6 Benefits of Tasklet WMS
1. Offline Functionality
Tasklet Mobile WMS makes it possible to perform core work processes without a network connection. The result is a reliable solution with great performance.
2. Integrates to Standard
Tasklet Mobile WMS is 100% integrated with standard Microsoft Dynamics 365 BC. At AristoU, we are a certified partner of Tasklet in Singapore.
3. Fast implementation
Tasklet Mobile WMS

can be up and running in a couple of days if you're already integrated with Microsoft Dynamics 365 BC- with minimal downtime and quick turnaround.
4. Easy to customize
Tasklet Mobile WMS

has been designed so it can easily be extended with custom functionality. All modifications are made in Dynamics 365 BC/NAV and 365 FO/AX.
5. User-Friendly Interface
Tasklet Mobile WMS

is developed with focus on minimizing "clicks" and irrelevant information. The end users will spend minimal time on training.
6. Visibility over inventory
Do it once and do it right- Tasklet WMS is always updated with the latest inventory information.

Tasklet WMS integration with Microsoft Dynamics 365 Business Central
Optimize your warehouse process
Tasklet Mobile WMS

from Tasklet Factory supports the work processes in the warehouse and integrates with the standard functions of Dynamics 365 Business Central and Dynamics NAV.

Installation and support of the solution is easy as it is directly integrated with the standard features of Dynamics 365 Business Central. 
Empower your warehouse staff
Improve efficiency in your warehouse results in employees reducing inventory errors. Tasklet Mobile WMS provides the tools and information needed to work effectively.
Easy to use graphical interface that can be configured to fit your employee's needs and requirements
Fully Tailored To Your Needs
Tasklet Mobile WMS has been designed so it can easily be extended with custom functionality. All modifications are made directly in Microsoft Dynamics 365 Business Central and Dynamics NAV.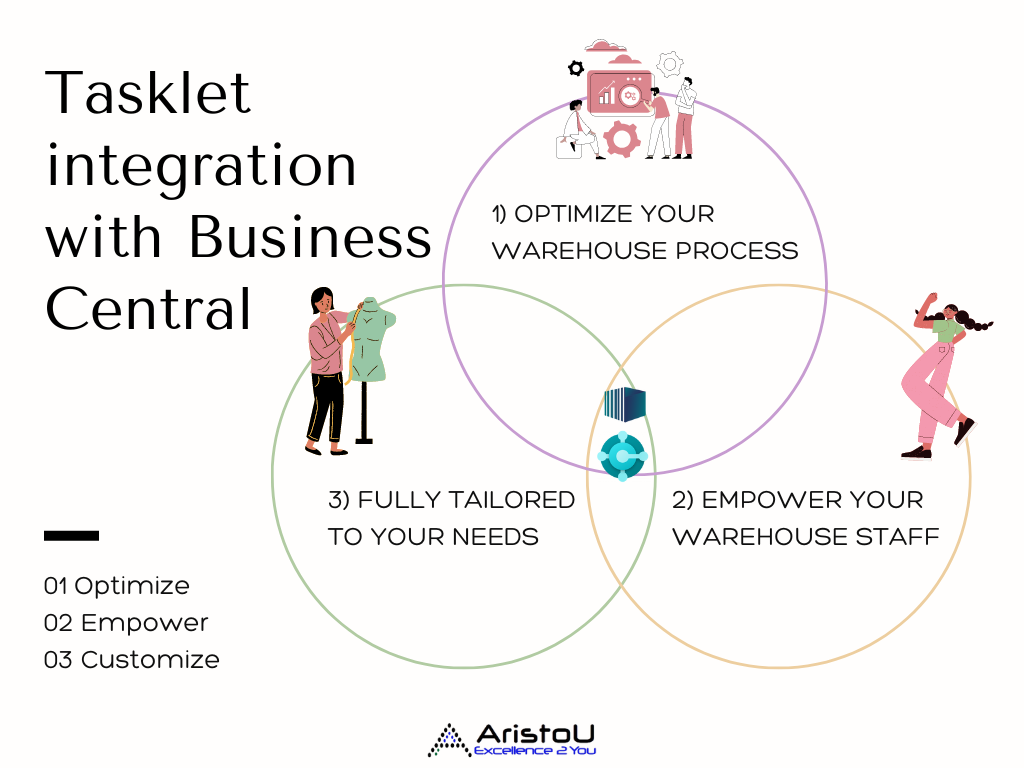 Our key recommendation is to choose a warehouse management system (WMS) that integrates until the standard functions are in your ERP system. 
For instance, if the ERP your business is using is Microsoft Dynamics 365 Business Central, the ERP system should be the central system (or back-end), where your WMS should be the front end that gathers and delivers data to and fro to the Business Central. 
Aristou is proud to be a certified global partner of Tasklet Factory and will assist you in a flawless ERP integration with Tasklet WMS to fully optimize your warehouse's potential. 
Reach out to schedule a free demo or consultation with our expert team today!