Sana Commerce- the secret weapon for ultimate customer satisfaction.
Aristou Admin
If you're reading this article, chances are you want to start your own e-commerce business- but not sure where to start. If so, you're in the right place, especially since B2B buyers now purchase 67% of their products online, a 16% increase from pre-pandemic (Sana commerce 2022).

Who is this article for?
Before you scroll on, let's establish who this article is for. Sana Commerce is built for Dynamics. If you have invested into Microsoft Dynamics ERP, we recommend not to let all that hard work go to waste. 
Choose an e-commerce solution that leverages all the integral data in your ERP — that solution is Sana Commerce. 
Sana is designed to aid you to drive more traffic to your website alongside the data your ERP system provides for best result, expanding your businesses reach and increasing your conversions through advanced online marketing functions. 
What is Sana Commerce?
Sana Commerce is a powerful e-commerce
platform designed to help your business succeed by building long term relationships with your customers with more efficient and customized service. 
Sana Commerce is a solution created to offer
real-time integration
between your ERP and your e-commerce solution. 
Unlike most traditional e-commerce solutions which offer an interface between themselves and your ERP, this solution is fully integrated into your ERP. 
Introducing: ERP-integrated e-commerce. 
In simple terms: Spend less time on processing orders and more time on closing deals by
eliminating any redundant complexities caused by mainstream e-commerce solutions.
Sana-commerce solution unlocks
3 key benefits
that enable you to build lasting relationships with your customers: 
Total customer convenience:

Empower your customers with personalized self-service and complete transparency.

Reliability without compromise:

Eliminate errors and delays for an experience your customers can always rely on.

Constant evolution

: Quickly and easily adapt your business to meet and exceed your customers' evolving expectations.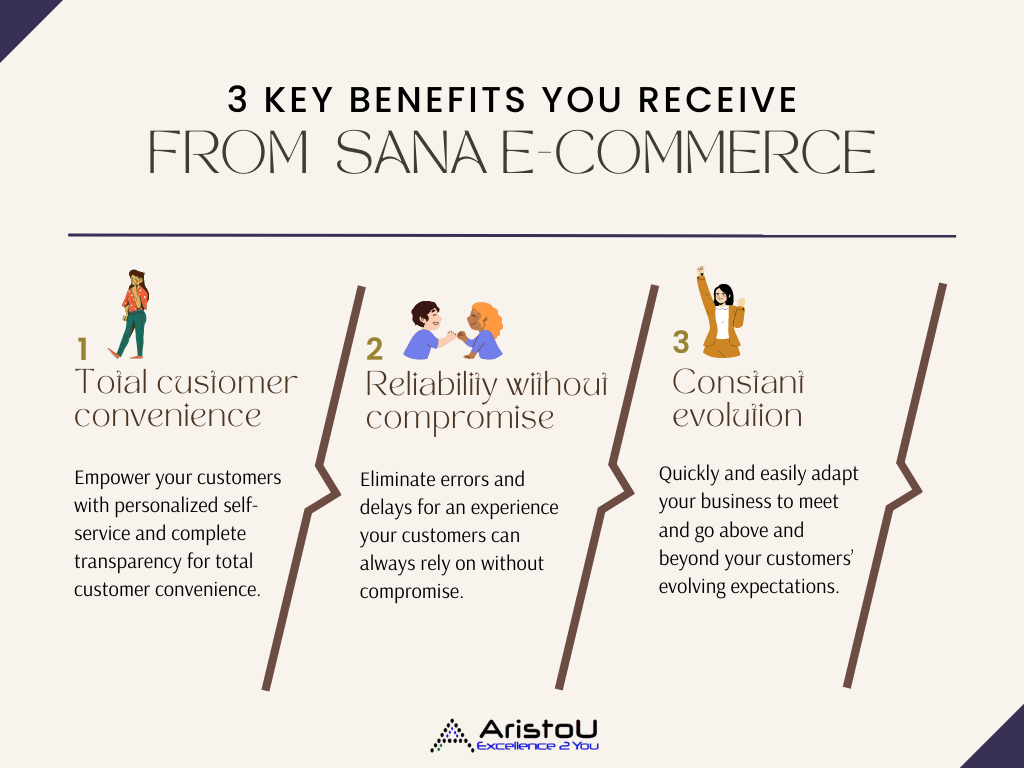 If you already have an ERP software…
…specifically Microsoft Dynamics 365 Business Central, this segment is for you!
The process of setting up a Microsoft Dynamics environment from scratch is already a complex and lengthy process. Not only is Sana Commerce a certified Microsoft Gold partner, it is also backed by a strong global partner network and recognized by leading industry experts. 
Sana Commerce is installed within your Microsoft Business Central ERP system to work hand-in-hand to equip your clients to self-serve online and make your sales processes more efficient. 
How? 
Sana takes existing product data, pricing agreements, discount rules, customer information, and other business logic already existing within your ERP and create a single source of truth for your web store. This makes it more efficient for you to manage the details and unlock more benefits.
If you don't already have ERP software for your business, click here to find out more! 
Below are 4 key basic functions of Sana commerce and how you can leverage Sana to grow your e-commerce online business.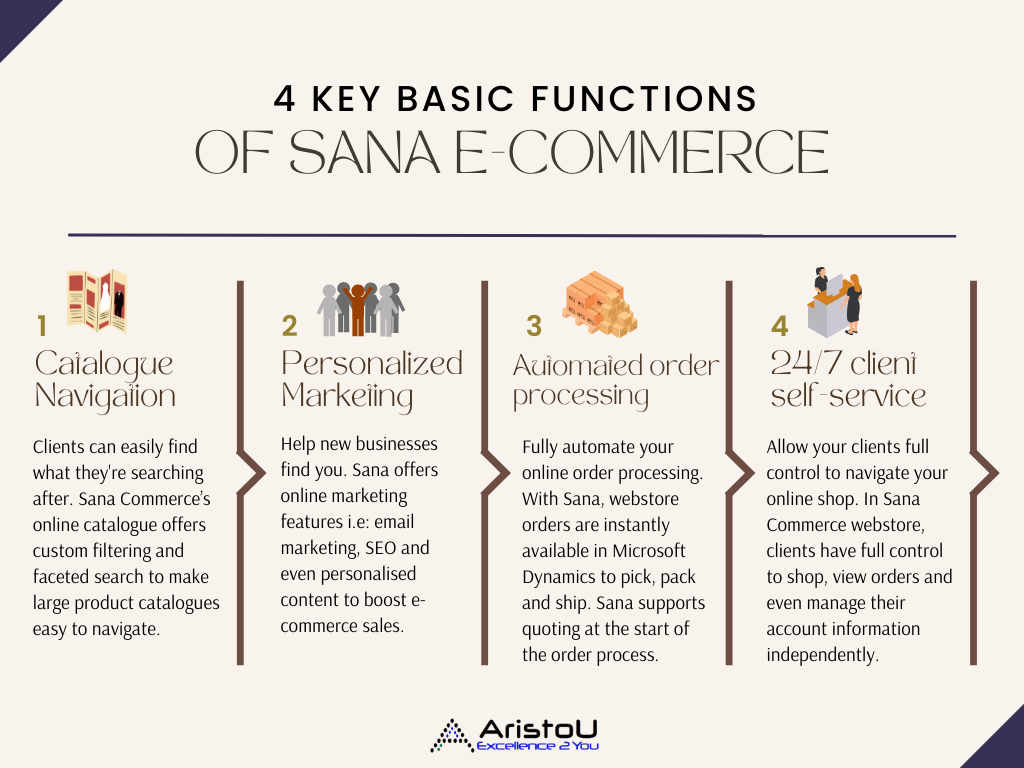 Key Features of Sana Commerce
As a modern, integrated e-commerce solution, below are some of the few key product functionality of Sana Commerce just to name a few:
A fast-performing front-end build with B2B optimized checkout functionality.

Seamlessly integrates with Microsoft Dynamics and leverage with real time ERP data

A

intuitive, user-friendly content management.

Out of the box integration with over 60 3rd party marketplaces and email marketing tools such as PayPal and Mailchimp.

Front-end API to build out headless, API-based front-end experiences.

Sana SaaS- ensures your web store is automatically updated on the latest version of Sana
Key consumer E-commerce trends 2022 (Sana Commerce 2022)
According to a research paper published by Sana (2022), there are 4 key consumer e-commerce trends worthy of our attention for 2022:
66% of companies are investing more online now than they did prior to the pandemic.

Those pending more have increased by nearly 45%.

Ordering via e-commerce has seen the largest increase (58%) since the outbreak of the pandemic.

Half (50%) of B2B buyers use e-commerce platforms for placing orders frequently.

What does this mean? 
The overarching trend affecting all B2B businesses is how buyers are changing. Paying attention to the right e-commerce trends can help you beat the competition and help your company make wiser business decisions. 
The rise in ecommerce trends means you have the knowledge to meet the rise in demand and expectations to meet the needs of consumers.
This is what ERP e-commerce entails- your ERP data can power a data-rich web store.
Stay tuned to the next blog post as we will cover more on the benefits of integrating your ERP system with E-commerce and some real life client case studies Aristou has assisted with! 
Are you an online business, manufacturer, wholesaler or distributor venturing to the e-commerce world? 
Learn how to leverage on SANA Commerce to meet your business e-commerce needs by speaking to one of our consultants at Aristou today.
If you don't already have ERP software for your business, click here to leave a note and one of our friendly consultants will be in touch to help you find out more!