The best POS system for your omnichannel business.
Aristou Admin
Sick and tired of entering the same sales data twice in your POS system? Frustrated with the lack of visibility in your inventory levels? Tired of the tedious process of looking up for stock when a customer requests a product that is out of stock?
Look no further, introducing:
NaviPartner Retail POS
is the solution for you.
NaviPartner (NP) Retail POS is a cloud system that is integrated with Dynamics 365 Business Central combining
POS system, financial management, accounting, management of orders and products, inventory management, reports and statistics in one complete solution. 
In this article, we will be covering:
What is POS systems and

what they are used for

5 things to lookout for when choosing a POS system

Intro to NP Retail

What Is a Point of Sale (POS)?
The point of sale (POS) or point of purchase (POP) is the time and place where a retail transaction is completed. 
It also refers to the place where a customer executes the payment for goods or services and where sales taxes may become payable.
Point-of-sale (POS) software is the operating system that helps retailers manage store operations, inventory, staff, and customers. 
POS terminal software may also include features for additional functionality, eg: inventory management, CRM, financials, or warehousing. 
By having a centralized database of your products, pricing, and customers, you can quickly find the products, assign the order to a customer, and apply discounts with little effort.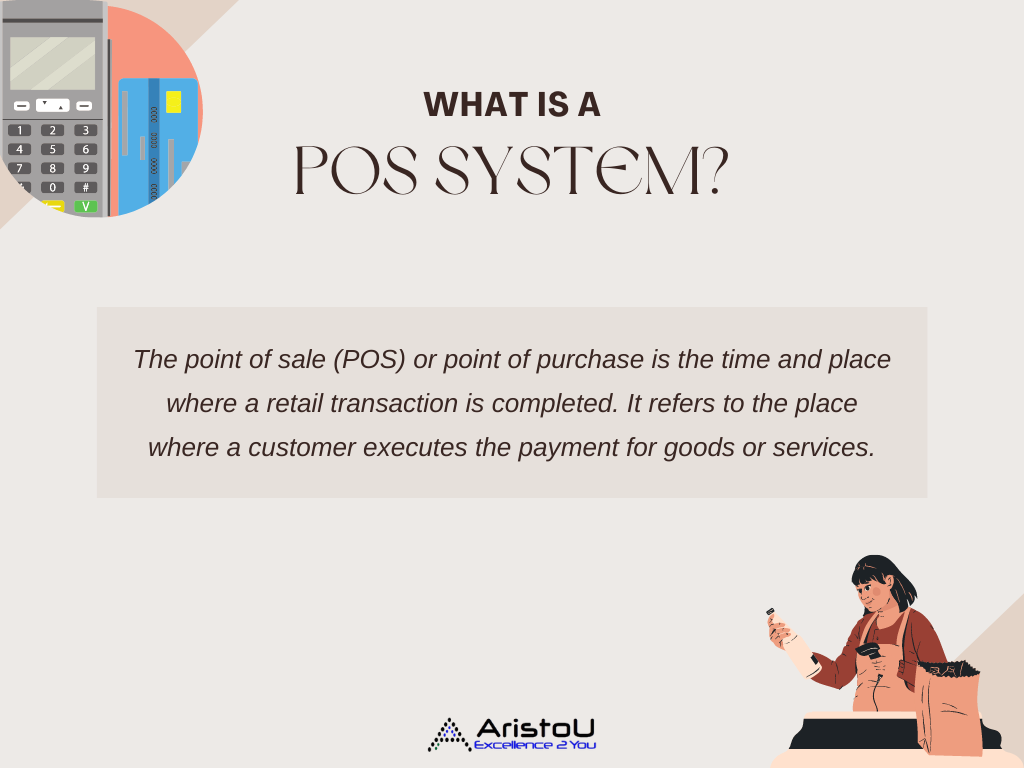 5 things to look out for in a POS system
1) Inventory management
With inventory at the heart of all retail businesses, it is vital POS systems have inventory tracking technology. The
system should have organizational tools and built-in purchasing.
In the event of a shortage of products, the POS is also to identify high-demand goods, monitor inventory and keep track of your stock. This helps your business to restock immediately and avoid over-purchasing.
Things to lookout for: 
✅
Organizational tools like product matrices, customizable categories and tags
✅
An item import tool to get your stock set up quickly
✅
The ability to handle serialized inventory
✅
Native purchasing functions, like the ability to store vendor information, built-in purchase orders and reorder points 
2) Tracking Sales
A strong POS system and modern cloud technology can make it easier for you to manage sales. It helps track purchases, returns, customers' preferences, suppliers' information and sales information can be a tool to help grow your business.
You should be able to dive deep into the data your POS is processing every day to pinpoint best sellers and overall sales performance at the mimimum.
Things to lookout for:
✅
Reports that show your most profitable products, top-selling products, lowest selling products, top-performing sales associates, busiest store hours, top brands and online vs. in-store sales
✅
Simple dashboards highlighting the information you need
✅
Tracking customer's overall purchase journey
3) Task Automation
Another great feature of some modern POS systems is their ability to automate sales, purchase and inventory reports. It enables you to manage customer purchases, goods purchased from suppliers and discounts offered.
There is no need to manually log the information, as the POS system can interact smoothly with other software you use to run your business. Eg: credit card processing can integrate with your POS system, allowing all the purchasing data to be stored in one place. 
Things to lookout for:
✅
Allows remote access via a user-friendly mobile app and/or web portal. 
✅
Integrated payments that save you time and reports on your payment data from POS 
4) Rewards Program
Research has shown that existing customers are more valuable—and more likely to make a purchase—than new customers. Research done by Frederick Reichheld of Bain & Company shows increasing customer retention rates by 5% increases profits by 25% to 95%.
POS software allows you to offer loyalty points, rewards and discounts to customers, similar to the programs offered by larger retailers.
A loyalty program increases sales not just for products that are discounted, but for additional purchases as well. A loyalty program and strategic in-store promotion advertising can increase sales.
Things to lookout for:
✅
Implementing a loyalty program can help attract customers to the store, increasing foot traffic and revenue.
✅
Integrating loyalty tools to be used with customer data to send out tailored promotions, eg: birthday rewards
5) Marketing/Advertising capabilities
Research
studies
provide evidence that advertising increases impulse buying. Especially at the checkout counter, customers are most likely to add last-minute items on impluse with their wallets opened. Some POS systems also offer customer-facing, on-screen advertising to further the impulse purchase, which can be a valuable feature. 
Things to lookout for:
✅
Customer database for capturing name, contact info, the preferred method of contact, favorite brands, walk-in or online shopper
✅
Integrates with email marketing software for emailing customers and tracking click-through rates
✅
Features for segmenting your customer database, and tailoring promotions to fit those segment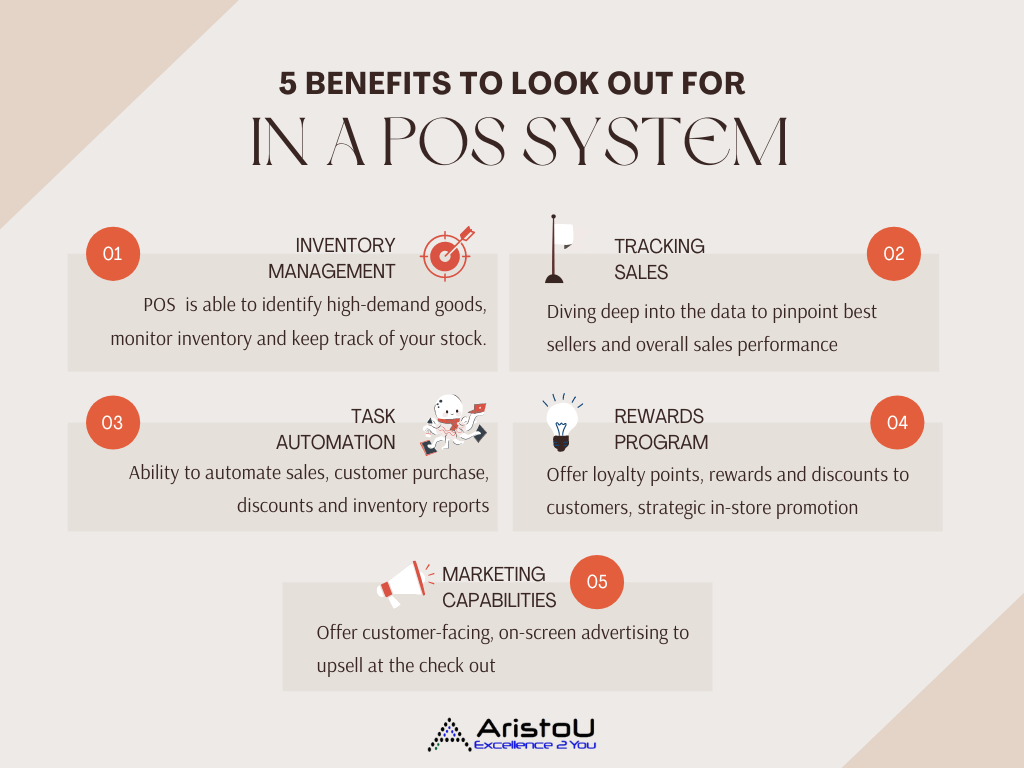 What is NP Retail?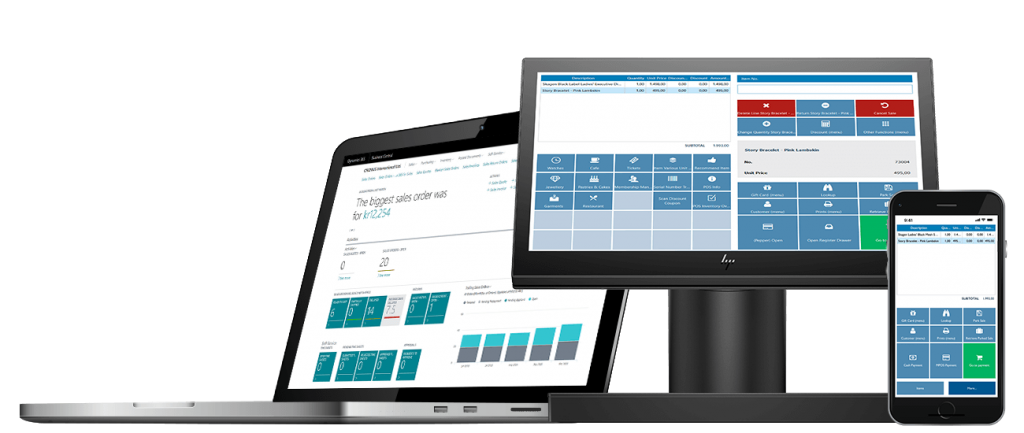 NaviPartner's POS system, NP Retail, is a future-proof solution integrated to Microsoft Dynamics 365 Business Central that unifies your business.
The unique selling point of NP Retail is the integration with Dynamics 365 Business Central combines POS system, financial management, accounting, management of orders and products, inventory management, reports and statistics in one complete solution.
Let's look into why NP Retail is the strongest POS solution based on the best financial management system below!
Overview of NP Retail Features

6 ways NP retail solution is built for digital transformation
1. Avoid duplications
The best part of NP Retail POS is the ability to work in and from one system

Everything is carried out in Dynamics 365 Business Central.
2. Access 24/7
Available 24/7 access to your business data in NP Retail and Dynamics 365 Business Central with internet

High flexibility and convenience.
3. Go Omnichannel
Retailers can utilize NP Retail POS e-commerce solution integration with Business Central to expand their omnichannel strategy

Provides a seamless shopping experience for customers.
4. Future ready
If you wish to add additional accounts or brick-and-mortar stores in the future, you have the foundation for growth

Saves you money in the long run, long term investment
5. Constant development
NaviPartner continuously tests and carries out new projects in the market 

Ensuring solutions are at the forefront with the requirements and expectations of the market. 
6. Extensive experience
Over 20 years of experience in developing IT solutions for the retailing industry

NaviPartner has acquired unique skills in delivering complete retail solutions.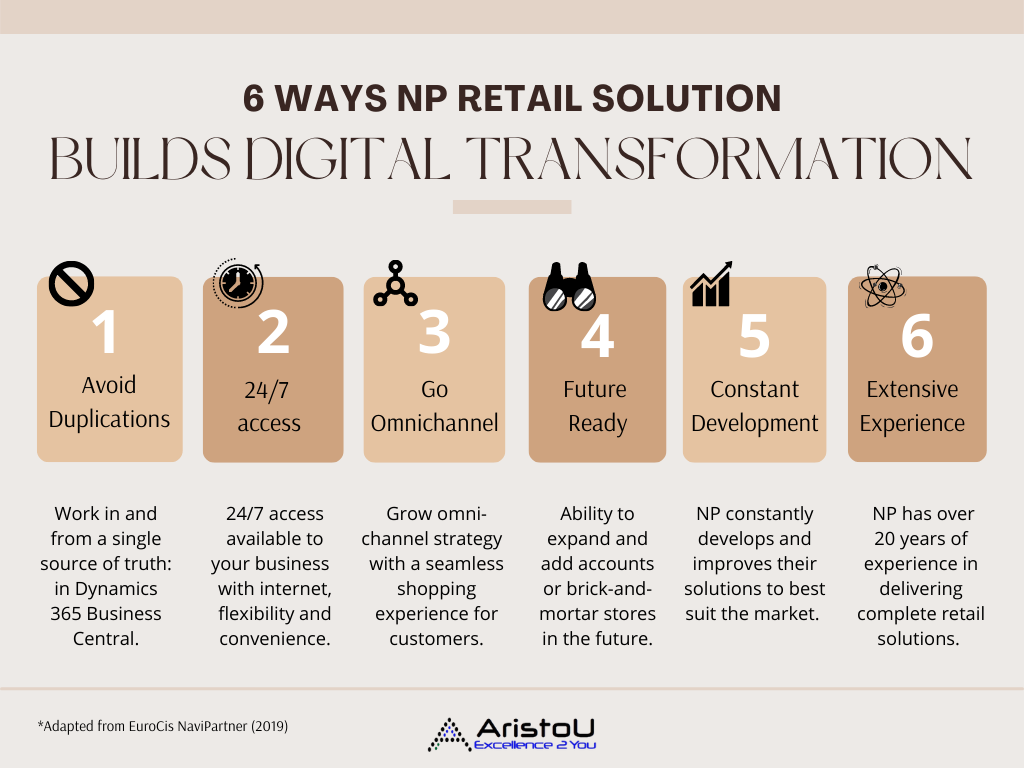 Deep Analysis of NP Retail

NP retail is the perfect POS system for 360° omnichannel for stores, e-commerce, museums, and attractions. Its comprehensive features, training and support
provides you with more freedom, time and resources to focus on strengthening your core business.
In our next article, we will be diving deeper into 4 key areas NP Retail is equipped and built for business transformation, taking your retail business to the next level. 
To find out more about NP retail for your business, sign up for a free demo with one of our team of experts today!