Aristou customers cloud migration success stories and learnings- Part 1
Aristou Admin
Migrating to the cloud (cloud migration) is a big step- especially for more traditional companies who are resistant to technological change. 
Cloud ERP software like Microsoft Dynamics 365 Business Central improves efficiency, growth, customization, adaptability, security and reliability. However, the benefits of the cloud can only be fully realized through successful migration and a trusted IT partner. 
In this blog article, we sit down with one of our experienced application consultants- Richard PT Chia, as he takes us through the entire cloud migration implementation process in detail on 2 of our latest projects.
Learn how Aristou has developed the tools, resources, and guided support to help our clients make the move in a quick, efficient, and cost-effective way. 
Let's dive right in!
Q1: What were the 2 completed projects you lead in 2022?
In the first quarter of 2022, Aristou had the privilege of working with 2 local SMEs based in Singapore for their first cloud migration to Business Central. 
They are:
1.

Sterling
C&S Consulting Engineer Pte. Ltd. 
Engineering company specializing in shaping Singapore's infrastructure and built environment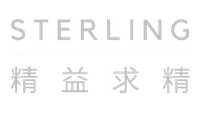 Photo credit taken from Sterling C&S Consulting Engineer Pte. Ltd. website
A social enterprise providing services to improve employee engagement and welfare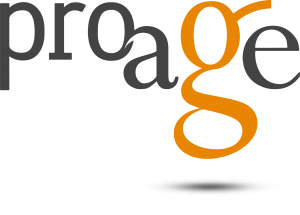 Photo credit taken from ProAge Pte. Ltd. website
Q2: What were the scopes of the projects?
1. Bank Reconciliation 
The main scopes we focused on were mostly basic financial modules for both Proage and Sterling.

Previously, clients manually did their bank reconciliation by comparing the cash balance document on their balance sheet and comparing it to the bank statement using

Vlook up

within Excel.  

Bank reconciliations are performed to make sure your various business transactions and expenses are reflected correctly in company books. 

It is a tedious and arduous manual process and prone to errors.

Business Central has the ability to help with

bank reconciliation

– i.e: matching the bank statement with the record in the system.

In BC, Bank Reconciliation can be easily done by:
1) On the bank acc. reconciliation page, select a non-applied line in the bank statement lines page
2) In the bank account ledger entries pane, select one or more bank account ledger entries that can be matched with the selected bank statement line. 
With BC download soft copy, clients have the capability with matching save time, improve accuracy and reduce errors.

2. Export and Edit in Excel feature
Proage and Sterling like the excel feature a lot as they are heavy rely on excel in their business

BC integrates very nicely with Excel and helps with importing and

exporting with excel

You are able to export your list of pages consisting of rows and columns of customers, sales orders, invoices, etc, and export the list to Microsoft Excel, and view it there. 

There are 2 options for viewing in excel depending on the page: either open in excel action or the edit in excel action on the page. 

This function is greatly appreciated and valued by both our clients.

Q3: What were some of the biggest hurdles you had to overcome before the implementation stage?  
1. High staff turnover
In the case of Sterling, they had very high internal staff turnover in their finance team. 

Due to the high staff turnover, it was hard for our team to obtain the accurate master data, resulting in a major delay to move the project forward. 

One example would be receiving incomplete master fixed assets data (FA), and as a result we had to spend more time retrieving the data by applying basic accounting principles to consolidate them. 

This would not have been necessary had the accurate master data been given from client first hand, which at times can be difficult to prevent.
2. User training commitment
In the case of Proage, there was not much time for user training. Because their accountant is outsourced and only works once a month, they have many questions due to limited time hands on

As such, it is easy for outsourced staff to fall out of touch with the system due to lack of familiarity and practice, taking longer time to master the software. 

It is highly recommended that employees enter the system on a daily basis to ensure mastery of the system.
3. Getting management to see the bigger picture
A tricky part of the puzzle is to convince the senior management to see the bigger picture of the role BC plays within their organization. 

A common pattern we notice amongst clients is that they assume BC has no limitations. We need to remind them that BC still has its limitations and remain them of its core purpose is. However, we can think of creative ways to work around the system to meet their needs. 

For example, finding alternative to the new steps within BC

Download

BS

compare with ledger and do a match- provide an alternative to please the customer if there is no other quick fix

BC is already very user friendly compared to others
2 key areas to remind clients: 
1) BC still has limitations and we cannot beat the system
Cannot help the system to be 100% perfect and steps have to be taken
2) The purpose of ERP software
The purpose of the system is to help businesses streamline their daily processes (BAU). In order to be accurate, the team's needs to be consistent, and the system helps with consistency. 

Q4: What were some breakthroughs and milestones achieved during the implementation process?
1. Solving bank reconciliation process
For both Proage and Sterling, BC proved as a great help with their bank reconciliation process.

BC has the ability to assist in bank reconciliation- definition: match the bank statement with the record in the system.
2. Customized Reporting
Proage- Reporting, the client had a certain expectation for their financial reports, and requested a similar layout to their previous financial reporting template. 

Because BC does not have the standard reporting layout similar to their old system, our team solved this issue by customizing a few financial reporting template for Proage 

Client appreciates this feature as their old ERP system did not have this ability to integrate excel
3. Solving the key business pain points
Domain knowledge for the financial aspect and how BC's offering can bring value to them and resolve their unique business problems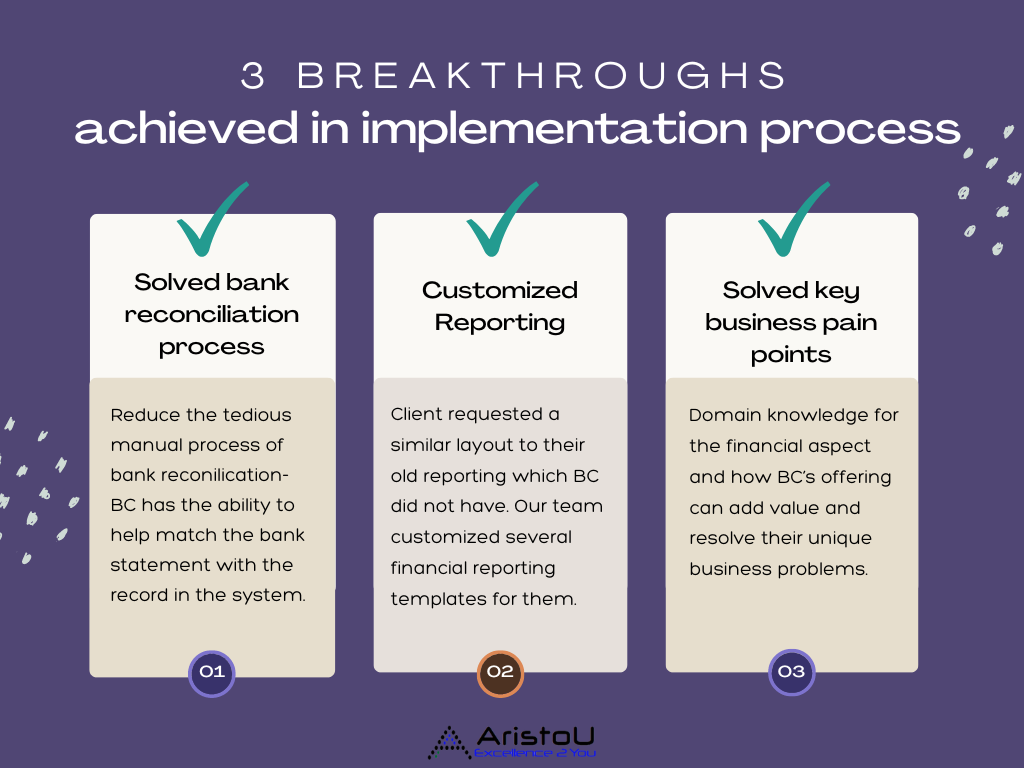 Well, th
at was a whole lot to digest! You'd definitely want to stay tuned for Part 2 of this series, which we will be covering: 
1. Post cloud migration implementation problems our team faced
2. Top 4 skills every application consultant needs according to our inhouse expert 
While migrating to the cloud should be a business priority, the experiences above illustrate the importance of planning and gaining consistent growth from learnings with the right team.
Whenever you're ready to migrate your on-premises solution to Business Central, our team at Aristou is here to support your journey.

Click here
to schedule a free expert demo and consultation now!