The Ultimate Beginner Guide to ERP Solutions- Microsoft Dynamics 365
Aristou Admin
If you've been thinking about switching to an ERP solutions software for your business like Microsoft Dynamics 365, now is the time to do so. More and more companies are adopting ERP solutions as their preferred option for business management.
Currently, 88% of organizations have ERP implementation (Selecthub 2021) and consider it to have helped their businesses succeed
.
While this means that the IT industry is completely saturated, it also means more opportunity and ground for your business to dominate. 
In our previous blog post, we covered what ERP solutions are and what it exactly does. Organizations use ERP to manage their business functions within a centralized and integrated system. This includes Supply Chain management (SCM), Customer relationship management (CRM), Enterprise Performance Management (EPM) etc. If you're thinking about implementing ERP solutions into your business but not sure where to start, this post is for you. Keep on reading!
The History of ERP Solutions 
ERP history originated back in the 1960s with material requirements planning (MRP) systems, when J.I. Case, a manufacturer of tractor and construction machinery, worked with IBM to develop the first MRP system (Netsuite 2021). 
Early MRP systems enabled businesses to track inventory and production despite being expensive and high maintenance. This allowed manufacturers to better manage resource procurement and delivery of products to plan better production runs. By 1990,
ERP systems' new
identity was formed: a unified database for information from across the company. ERP systems brought in other business functions, like accounting, sales, engineering and human resources (HR), to serve as a single source of truth for all employees. 
ERP systems continued to evolve throughout the '90s. One major breakthrough was the advent of
cloud ERP
invented by Netsuite in 1998 (Netsuite 2021). With cloud ERP, businesses could access critical business data via the web with just an internet connection, and any device. Small and midsize businesses across industries could enjoy the same benefits as their larger counterparts, including automated processes, improved data accuracy and greater efficiency. 
Today, leading ERP systems are vast repositories of information able to generate reports that can highlight the performance of any business aspect. One of the top ERP systems is
Microsoft Dynamics 365 Business Central,
designed for different industries, business models and challenges. 

Photo Credit: Oracle Netsuite 2021
We will now further explore the capabilities and features of Microsoft Business Central Dynamics. Overall, these are the following objectives Microsoft Business Central solutions serve for businesses:
Objective 1: Unifying business processes and reducing data inconsistency
Business Central is a business management solution for small and mid-sized organizations that automates and streamlines business processes and helps manage your business. This also ensures zero redundant and incorrect data when we streamline all data into 1 central automated system. 
Objective 2: Highly customizable
Business Central is a business platform that you can extend and customize to fit your specific needs with little to no code development. There are different ways to customize the application to give your business access to the features, functionality, and data that you need most, in a manner that best suits your daily work.
Objective 3: Improving analytics and reporting
Sales reporting in Business Central allows sales and business professionals to get insights and statistics about current and past sales activities. Business Central contains several key features that helps you gather, analyze, and share your company data.
Objective 4: Identify pain points and key growth opportunities
Because Microsoft business central can access data from across the company, it can uncover impactful trends and provide extensive business insights for growth. This leads to better decision-making by management who now have easy access to any relevant data. 
Objective 5: Increase company efficiency and profitability
Take better care of customers by managing the entire sales process from within Microsoft Outlook, and deliver better outcomes with connected service operations which in turn increases your efficiency, visibility and profitability.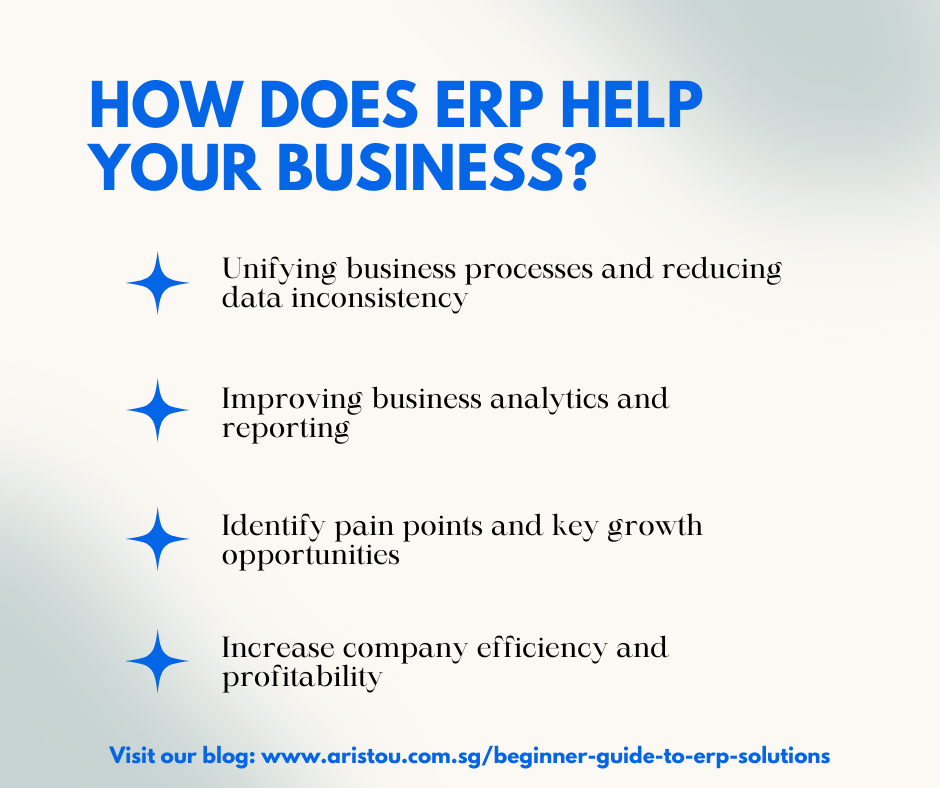 Photo Credit: Aristou 2021
4 steps to an effective ERP software-Microsoft Business Central Dynamic 365 overview
Helps understand the health of your business 
The simple interface makes it easy to access the health of your business. Y
ou're able to review additional insights such as job profit data, top items sold, and sales timeline—all surfaced within Dynamics 365 Business Central to help you make better business decisions. It can also identify pain points, such as overdue payments for you to take action.

Simplified processes with Microsoft interoperability
Microsoft Dynamics 365 Business Central allows you to create and modify entries directly with Excel. Excel is embedded in Dynamics 365 Business Central, making it even easier to use and improve productivity—especially if your team depends on it daily. It also enables quick sharing and collaboration on business tasks in Microsoft Teams with your team.

Improved communication with outlook integration
Dynamics 365 Business Central connects to Outlook to simplify purchase invoice entry without having to navigate to another application. Artificial intelligence (AI) is utilized to drive data entry and scan email text findings to enhance business processes. This allows convenient and seamless interaction between customers and vendors to take place all in one place, accelerating your transactions and business decisions. 

Intuitive features to drive efficiency 
Exploring more features within Dynamics 365 Business Central grants the opportunity for potential jobs. A layered structure within Dynamics 365 Business Central allows you to divide the job into smaller tasks. Insights on how a job is progressing will be displayed, eg: Tracking if you are reaching designated milestones or if you are on target to meet budget expectations.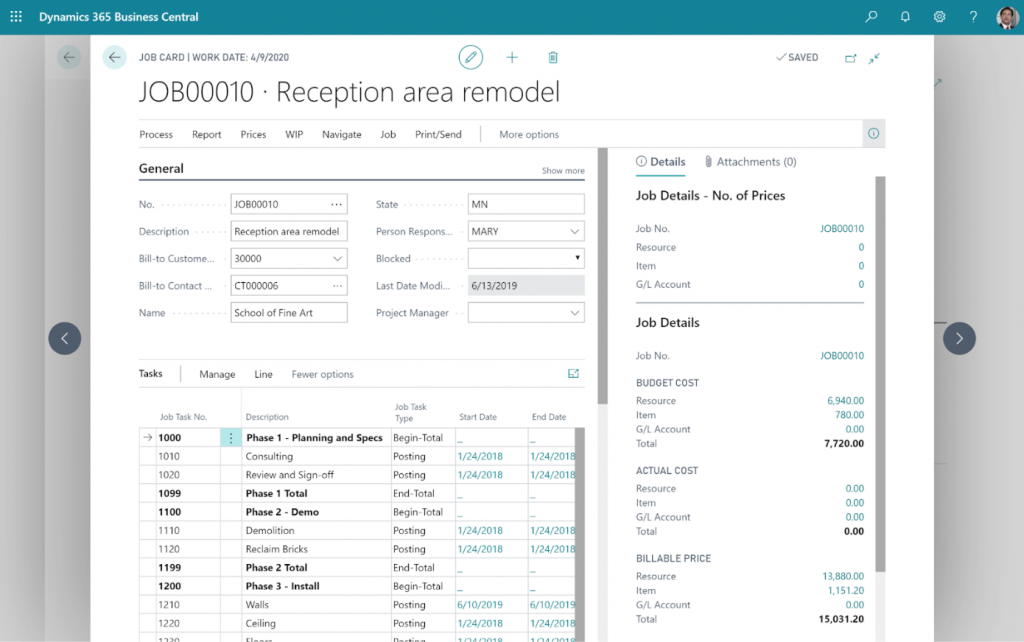 Tips and Reminders for new business starting on ERP Software/MBC
1. Be open to changes…
…when on this ERP journey. ERP softwares like
Microsoft Dynamics 365 Business Central
is created
 to make your business life easier and better. Many businesses may initially be resistant to change and feel more comfortable sticking to their existing business processes.
The initial reluctance can be due to the big changes and effort required in the ERP software migration phase.
However with the right team and technical support, you can rest assured that the changes made from an ERP software is guaranteed to work for your business, not against it. 
2. Play the long game…
…Implementing
Microsoft Dynamics 365 Business Central
is not an overnight success. Some companies can fall into the trap of thinking that once it is implemented, their businesses will immediately see intense profits the next day.
The reality is, Microsoft Dynamics 365 Business Central is a long term strategy where there is a constant need to refine future business plans and processes to ensure long term success.
T
hat's why our expert team here at AristoU is here to guide you through the process and
 create a clear blueprint for your business expectations to ensure you understand all the elements when starting out with .

ERP solution systems like Microsoft Dynamics 365 Business Central offer an incredible business opportunity for yo
ur growing business. As the world of e-commerce becomes more competitive and experiences higher demands, businesses must understand the intricate dynamics of the technology solution landscape and work to stand out by utilizing the best IT tools to maximize efficiency and profitability. 
As you continue to explore ERP systems and decide what's best for your growing business, click here to download our free e-book resource to expand your knowledge. Alternatively, you can leave a message to our friendly team at AristoU for a free demo now! 💻 ⌨️ 😀