Aristou Customer Cloud Migration Success Stories and Learnings- Part 2
Aristou Admin
In the last blog post, we covered the entire implementation process with our application consultant- Richard PT Chia on 2 of our latest clients projects.
We saw how Aristou assisted in the scopes of the projects, hurdles our team had to overcome, and how we conquered these challenges with breakthroughs!
In Part 2 of this series, we will be looking at:
Reasons for resistance towards cloud migration

Post implementation problems our team faced

Bonus: Top 4 skills every application consultant needs according to Richard PT Chia
Let's jump right in!

We get it, executing an effective and successful cloud migration project can feel overwhelming.
There are many areas of concerns, eg: stability concerns, cost concerns, and security concerns. 
Without proper planning and execution, cloud migrations can turn into complex, never-ending and exorbitant endeavors. 
Poorly planned migrations can result in operational disruptions, limited employee productivity and unanticipated costs.
Keeping the mission in mind
when it comes to cloud migration is key; leaders ought to understand and champion the 'why' behind moving to the cloud.
Fears
Hostility to change

Lack of understanding and education to the company as to why there is a need to move in a cloud technology direction, frustration with disruptions to work

Worry about training, or lack of training etc.

Demographic of staff

There are legitimate concerns that more matured workforce struggle to cope with learning the new mechanics of cloud ERP technology

With elderly (eg >50 yo) staff, they may take longer to learn new skills and new technology which can be daunting. The right ERP partner will provide assurance and confidence to keep the project successful 

Security breaches

Cloud migration success stories conclude with the implementation of strong security.

45%

have experienced a data breach or failed an audit involving data and applications in the cloud vs. 35% in 2021
Areas to Avoid
❌
Pie in the sky expectations
Whilst cloud ERP like Business Central has many benefits, it is not a genie in a bottle solution. 

To avoid allowing your hopes to soar to an unrealistic degree, engage an

ERP consultant

like Aristou to help you in the implementation process. 

Why? Experienced consultants will be able to break down what each system offers and explain any areas of the system that might lead to unforeseen costs or limitations.
❌
Intense Customization
Your ERP system should fit your needs as accurately as possible. However, software

customization

isn't cheap. The bells and whistles, so shiny and attractive, add up. You won't want to waste money on additional features that won't serve you.

Keep both your long-term and short-term goals in mind when making your

software selection

.
❌
Lack of testing
Before you go live with Business Central, testing is essential. 

Check on the data migration, check to make sure timing is accurate. Test everything. This way you know you will have success when you are ready to take the system live.
Solutions
For many, a successful cloud migration reduces cost, improves scalability, and significantly reduces the risk of a cyber incident that could derail your business. 
We have implemented several measures as a effective solution to ensure a smooth implementation process:
✅
Complimentary Training
Our team has been very generous in providing multiple rounds of complimentary training for our customers to make sure they are as equipped as possible to feel confident enough to handle the software
✅
Aristou help desk
Managed by PT Chia himself for any issues post going live
✅
Encryption as a critical security control
How do we address cloud security breaches and avoid them?

When it comes to securing data in multi cloud environments, IT professionals view encryption as a critical security control. 

The majority of respondents cited encryption (59%) and key management (52%) as the security technologies they currently use to protect sensitive data in the cloud.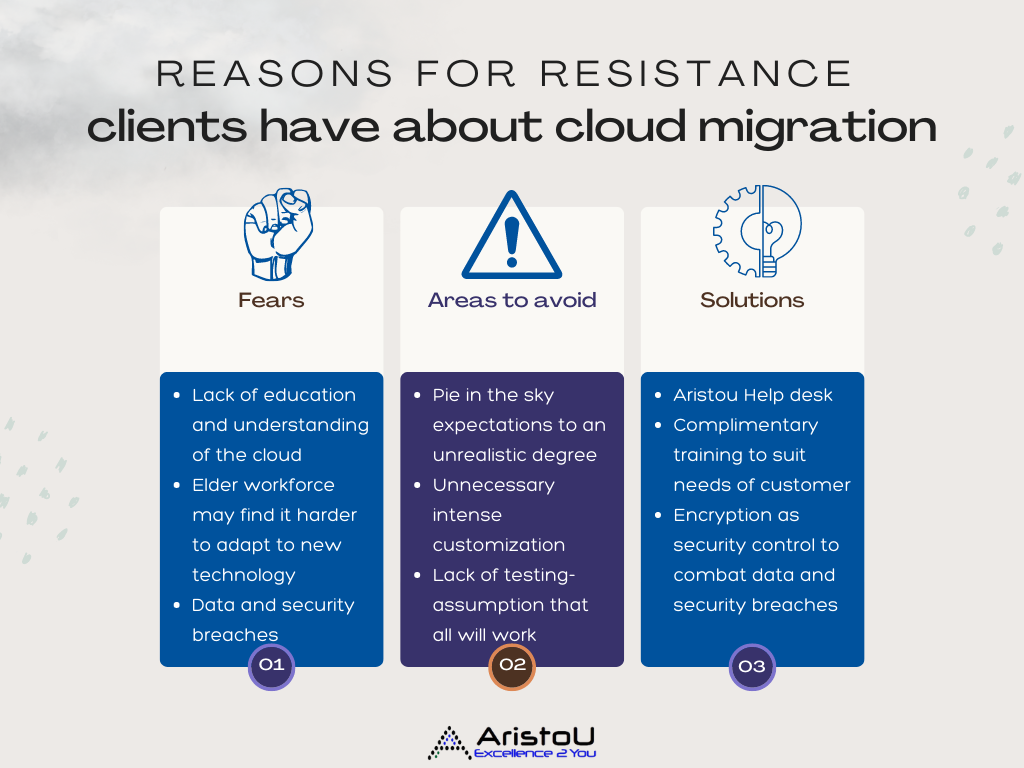 Were there any post project implementation issues?
Longer than standard training duration
Sterling had a high staff turnover- 4 finance staff turnover within 4 months. Every time an existing employee leaves the company, we had to conduct the same training session(s) again for the new hire which was a very time consuming and inefficient process. 

A typical post implementation session consists of 1-2 follow up sessions, however Aristou has gone down more than 4 times for training purposes.

Despite these delays, it is imperative that Aristou continues to provide good service and support in spite of unforeseen circumstances or delays.

How to avoid this issue? 

PT Chia recommend users enter the system on a daily basis for familiarity, get hands on to master the system. Otherwise, there is the potential of forgetting how to use the system and struggle with the constantly updating features of BC. 
Proage's accountant expect reports to be the same layout for Financial reporting

They have a certain expectation for financial reporting, BC's current layout isn't similar to their old ones. don't have the standard reporting layout so Aristou customized the reporting layout to suit their needs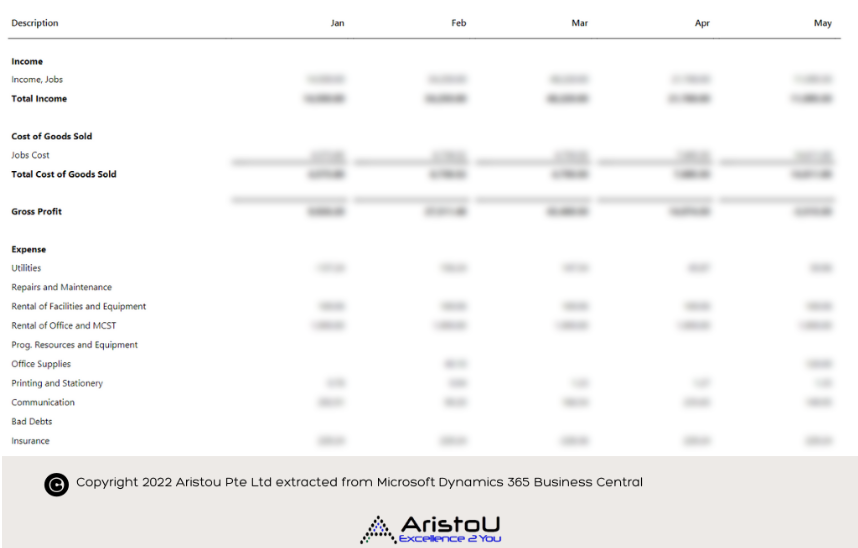 Image is the customised one with breakdown on multiple month
4 top important must have skills for application consultants:
1. Be resourceful
In an era where information can be obtained at the tip of your fingertips, resourcefulness is key in the implementation process. 

There will be unexpected questions and scenarios from clients that you may not have immediate answers to, hence asking your colleagues, connections or even researching them online is important. Bottom line: Do not be afraid to reach out.

You learn by doing. There are no shortcuts, and consultants gain valuable experience by sinking their teeth into each project. PT Chia shares that he gained more confidence and momentum build up after these 2 projects. It is important to be continuously upgrading and upskilling oneself.

The vice versa is true for the client/end user- being in the system daily helps them gain more confidence and skill in using BC to its fullest capacity. 
2. Learning to say no
Set boundaries and expectations- if a client has unreasonable expectations from the system, a skilled consultant knows when and how to tame their expectations down.

Expect pushback from client when your answer to them is "no" when it is right in advicing so. Never compromise on quality and practicality, this will benefit both the client and the partner long term for accountability and consistency.
3. Be flexible and adaptable to changes
Have to be flexible and adaptable to different customers and industry in order to highlight BC features and fill in the gap for their needs. 

In order to do that, a skilled ERP consultant must not only must equip with industry domain knowledge but also resourceful and always listen to customer needs.
4. Listen first, advice second
Listening to their needs, what BC offers can bring value to them as each industry and client is different

Eg: Proage- so well integrated with excel so they appreciate it, their old system don't have this ability with excel- Standard feature

Important to always listen to customer needs and adjust their expectation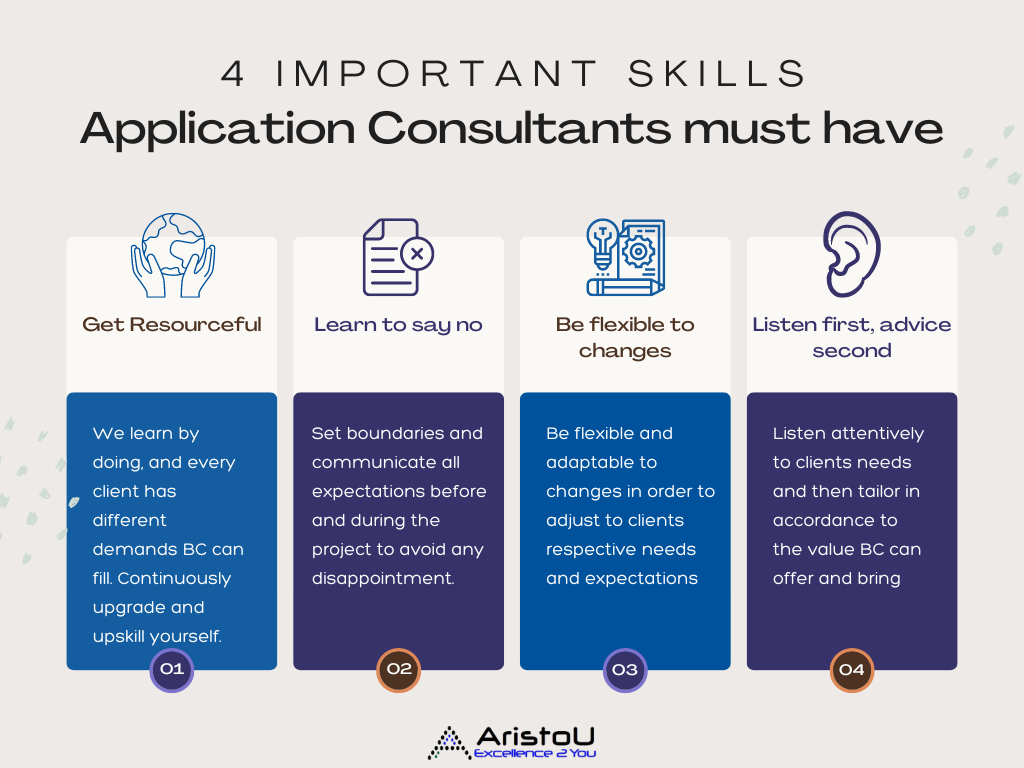 Whether you're looking to grow your footprint, improve services, or modernize your underlying technology, the Microsoft Cloud Business Central ERP can meet your changing needs.
Aristou will prepare a comprehensive government grant proposal, from implementation to execution to value and maximize your project's success.
While migrating to the cloud should be a business priority, the experiences above illustrate the importance of planning and gaining consistent growth from learnings.
Whenever you're ready to migrate your on-premises solution to the cloud, our team at Aristou is here to support your journey.
Click here
to schedule a free expert demo and consultation or call us at 6974 6863 now!