Do you have a Power BI strategy? 5 top tips for a successful BI stratey.
Aristou Admin
Why
"trust your instincts"
when you can
"trust the data"
for business decisions? 
Gone were the days of relying on the traditional methods of pulling data manually through spreadsheets. Moder
n day business intelligence (BI) eliminates these tedious processes and provides you real-time access to key insights for sound decisions. 
In this volatile environment, businesses utilize BI tools to remain agile and competitive. In our
previous posts, we covered
6 ways
Power BI elevates your business decisions for success and how to
make data visualization work
for your business.
Whilst many companies implement business intelligence gradually, what does it take to win?
We say: An overarching BI strategy.
But what should the strategy consist of, you might ask. 
Well, we're glad you asked. In this blog post, we'll be covering 5 key elements of developing a holistic BI strategy.

Before we get into that, let's recap the top 3 functions of business intelligence tools.
1) Deliver Real-Time Data
BI tools deliver the real-time data required to make decisions fast. 

Eg: Organizations can be alerted to issues, ie: relating to customer service or processes immediately and solve them before they damage their reputation or profits.
2) Improving Customer Experience
BI supports companies in their effort to improve the customer experience. 

Consumers are increasingly intolerant to negative experiences. According to the

Global Consumer Trends in 2022 report

by Qualtrics, consumers are willing to walk away from brands they've been loyal to if their expectations are not met.
3) Automated Data Visualization
One of the key features of Power BI's solution is digestible data visualization. 

The beauty of data formatted in an easy-to-read graph allows employees who aren't technically inclined to read, understand and glean insights as well as those who have. BI software saves time by compiling data and creating visuals automatically. 
Using BI, organizations can visualize and take action on customer trends in real-time. As a result, consumers receive the experience they crave and businesses reap the many benefits of their continued loyalty.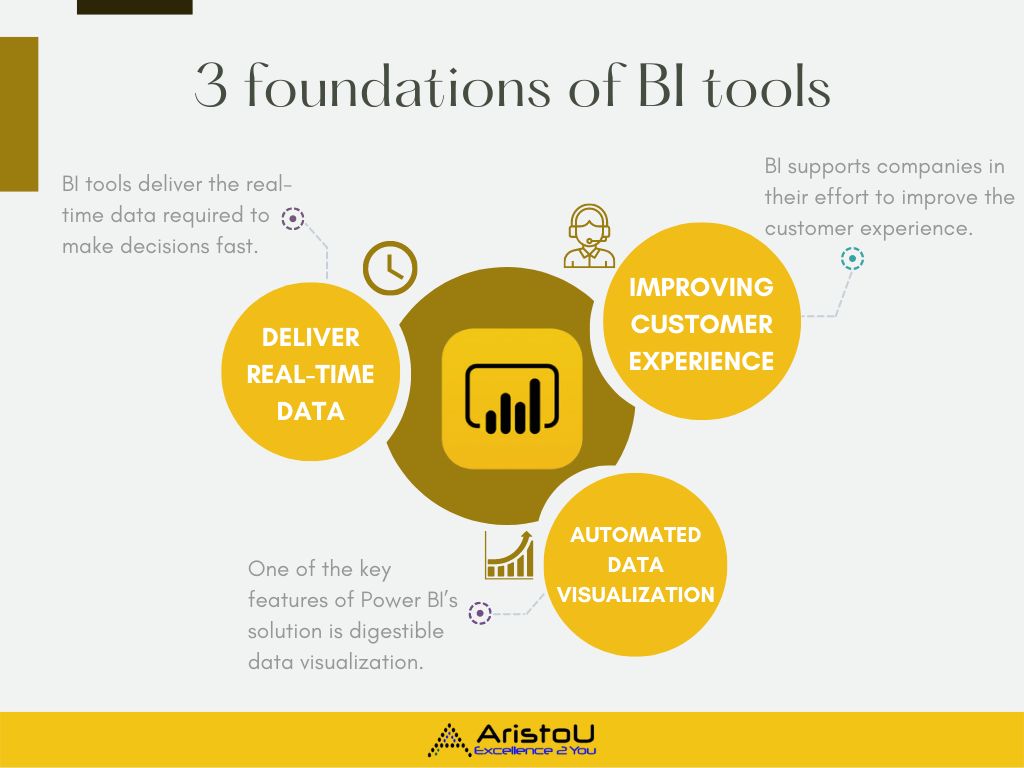 5 components to consider when building a BI strategy
BI strategies should be purposefully designed so they fit the needs and the culture of your business. Here are
5
key elements you'll want to consider in your BI strategy:
1) Leadership Endorsement 
We all know how important the management's support is- their support or lack of can make or break the project. A few questions to ask your leadership are:
Does all stakeholders and management understand what BI is? 
Are they aware of why it matters?
Will they support your team's efforts with budget and staff resources?
If the answer to any of these questions isn't a definite yes, then the BI strategic plan has to eradicate any confusion and misperceptions and make a compelling business case for BI first.
2) Willingness of Employees
Implementing a business intelligence tool requires effort and willingness of your employees to participate. 
Is your staff ready to develop and support BI?
BI is data and analytics intensive. Are they equipped with solid skills to utilize BI to address the needs of the business and solve them?
Having strong BI skills across your internal IT team is fundamental to develop the best BI use case with end users as effectively as possible. 
3) Organizational readiness
Using business intelligence means reimagining business processes and decision making from an organizational perspective

. 

How deep are your staff's technical skills levels for BI? 
Are your users and their direct reports ready to embrace the business process changes that BI is likely to bring?
A willingness to move into a BI environment should be well-established in IT and the user base before you proceed with an company wide BI strategy.
4) Optimizing a data-centric POV
A successful BI infrastructure must be able to operate on data of all kinds that can reach every corner of the organization.
Is there the bandwidth to knock down system silos and be ready to move different types of data into a single data repository?
Are you ensuring data across all systems is consistent and accurate, so it can be leveraged to the max?
Having a strong data architecture consisting of various data warehouses and repositories in place is a non-negotiable for all parts to work together and exchange data within your BI framework.
5) The search of a right BI partner 
There are many different BI consulting partners, but not everyone provides the same level of BI expertise.

Below are some tips to ask yourself before settling on a BI partner:

Is this vendor familiar with your industry and holds experience implementing BI in that field? 

Are they aligned with your business's goals and objectives, and how BI can further your overall growth?
If you're new to BI and BI strategy development, it's helpful to work with others who have traveled the route.

At Aristou, we hold vast experience providing professional consulting and assistance to small and medium businesses in their BI journey. Our unique proposition is maximizing your BI software by making sure it sits on top of a sustainable and scalable cloud ERP software- Business Central. As a reliable and proven partner of Microsoft, we will work together with you to meet your business technological needs and objectives.

There are many benefits that comes with constructing an overarching BI plan. BI can support both operational and strategic decision making and is best used within a framework that leverages data across the entire organization.
Having a structured framework in place can better facilitate the efficiency of business intelligence tools, and not doing so could risk it's potential and risk wasting resources without a BI plan. 
Click here to read more on the 6 ways how Power BI elevates your decision making for ultimate success!
Considering the best business intelligence tool for your business? Contact us today for a free consultation and demo and how Aristou can help!