In the manufacturing industry looking for a new inventory management system? Don't skip this post.
Aristou Admin
Looking for a POS and warehouse inventory management system in the cloud that optimizes your business? Well you're in the right place. Keep reading!
Efficient inventory management is becoming even more critical as omnichannel awareness increases due to the COVID 19 pandemic. In the
last edition
of this blog topic, we discussed why NP Retail POS could be your next ideal POS software. 
In this article, we highlight some of the most important things to pay attention to when you are looking for a new warehouse management system. 

Effective inventory management can ensure a higher profit during sales campaigns, reduce production costs and streamline operations.
Better yet, your customers get such a good experience that they come back – both during sales and after. What a win!
With inventory management built into the POS solution, you are able to fully streamline the inventory processes. 
Before that, let's take a deeper dive into the 3 types of inventory used in manufacturing, and the key features that boost your inventory management process.
3 Types of Inventory in Manufacturing
There are 3 production inventories that are under manufacturing inventory management: raw materials, work-in-progress (WIP), and finished goods. As stated earlier, these directly affect the supply chain. In other words, achieving the appropriate amount of inventory per category is crucial for a business to run smoothly.
1. Raw Materials Inventory
–  is the inventory of the basic and natural material used in the first stage of production. 
The former uses them to convert them into the final products by applying manufacturing processes. 

Eg: Aluminum scrap is the raw material for a company that produces aluminum ingots. Flour is the raw material for a bakery or restaurant that produces bread or pizza.
2. Work In Progress (WIP) Inventory
– consists of raw materials that were turned into parts or segments of the finished product. 
This is the inventory of the partially finished products ready for the next production process, but also not the completed product.
3. Finished Goods Inventory
– this type of inventory contains the end of the line products and are ready for shipment. 
Finished goods are considered to be made up of work-in-progress materials put together to create it.

They are saleable, and their sale contributes fully to the revenue from the company's core operations.

Because the manufacturing inventory management directly affects the product of goods and supply chain, it is important for businesses to utilize a robust inventory management system.
Establishing an effective manufacturing inventory management system can help businesses properly forecast inventory levels. This will help with consistently meeting customer demand and expectations
.
Let's take a look at 4 key features that your inventory management should have, that can help achieve the above to its maximize potential.
4 Features that boost your inventory management processes
Here are the 4 key features of NP Retail contains in order to equip and build for business transformation, meeting customer demands and taking your manufacturing business to the next level.
1. Alternative Item
When an item is not in stock, the NaviPartner inventory management system makes it easier for you to find the next closest alternative item to suggest to the customer. 
When the stock arrives from the vendor, you're able to scan the new items and register them in the warehouse using the

Mixed Reality

function. 

It is a function unique to NP Retail that optimizes your warehouse management and automatically updates the inventory level.
2. Locating Items
Employees save a lot of time and frustration by being able to locate items easily and quickly in the system. It results in faster expedition and reduced delivery time and risk of items disappearing in stock.
A good tip is to switch the focus from forecasting to fast execution of orders. For instance, integrating the business's most used purchasing portals with lists that helps your buying departmenting buy products in bulk instead of individually. 
3. Trace each product
Track each individual product's serial number from the time the item is received on a purchase order until it is sold on a sales invoice. Tracking the journey will ensure the product safely reaches the hands of the customer, even if there is a change of location.
Paying attention to the integration of your warehouse, shop and online store is crucial to avoid under or over selling products. 

Eg: If all your warehouses are integrated with the webshop in real-time, you'll never risk overselling popular products as you'll always have access to an updated overview of stock across all locations.

In addition, the available stock should be reflected on your website and also support the picking processes in the warehouse. 

E.g. A store is automatically alerted when a product needs to be picked from the store's stock for an order. When the order is approved, the product instantly disappears from the available stock overview.
4. Stocktaking
Stocktaking is a fixed part of the maintenance of the inventory. With the right inventory management system, you can easily perform inventory counts in a short amount of time. 
Tools like

RFID

(radio frequency identification) equip you with the ability to quickly do a stocktake in minimal time. RFID technology is controlled by radio waves communicating between a tag on the item and the RFID reader. 
Additionally, the integration with the inventory management module in Business Central
ensures that your inventory level is automatically updated.

3 areas of inventory management challenges you may be facing:
Large changes in the number of orders can complicate effective order management processes. You may find the below 3 inventory management challenges familiar:
1. Staff and manual processes
During busy sales campaigns like Christmas or Black Friday, the demands and orders will increase. In this period, your manufacturing business may hire extra staff to localize and pack orders. 
These warehouse manual crucial processes are time-consuming and monotonous, combined with new and constantly changing employees are a high-risk combination for errors to occur. Errors increase the risk of having to disappoint your customers or getting a lower margin on your orders.
2. Best sellers
The next potential challenge could actually be your most popular goods– the irony! Whatever your bestseller items are, there is a risk of overselling. 
While bestsellers help attract customers during sales, it may work to your disadvantage if the demand outweighs the supply and worse still- if you can't keep up. 
3. Localizing the goods
It can be a challenge to simply locate the goods after they've been sold – especially for businesses with several store locations and warehouses. This can lead to a lot of time wasted on administrative tasks, where the products are sent from store to client, store to store, or to the warehouse. 
With the right tools like
RFID
(radio frequency identification),
you'll be able to locate the goods easily without wasting unnecessary time.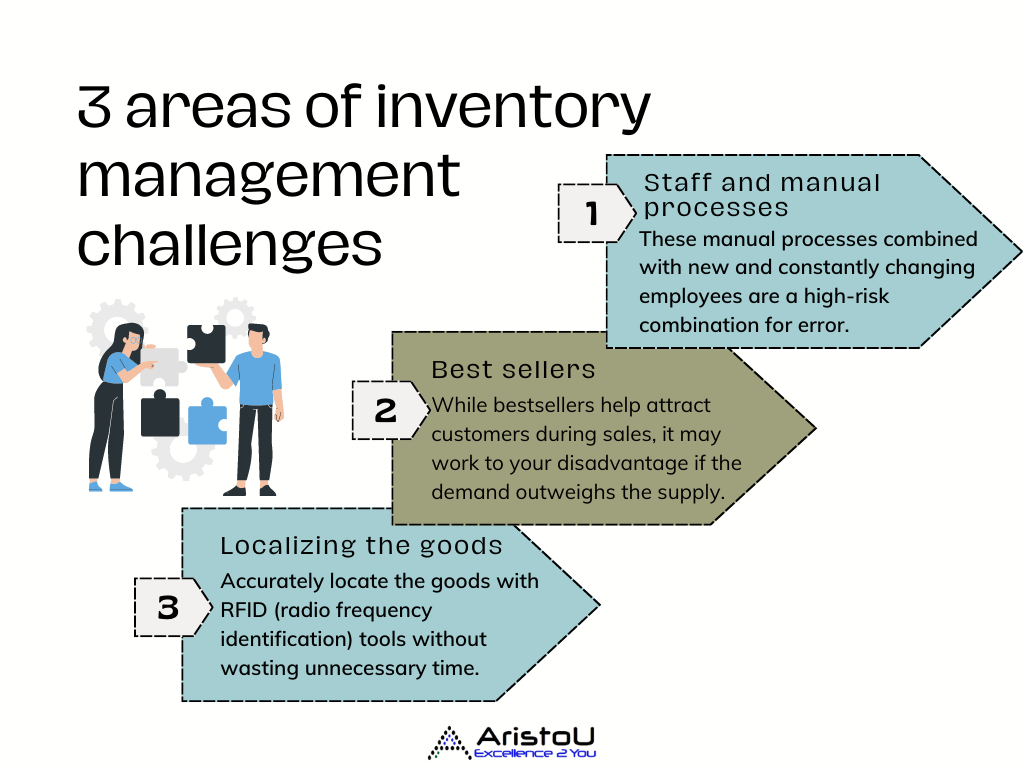 Having the right inventory management systems in place will save your manufacturing business huge time, effort and money. 
Because Navi Partner is a cloud-based Point of Sales system, you have the flexibility to always check your inventory level and order new goods whether you are in the office, at home, or on the go. You're able to control your inventory through streamlined reorder processes and easily transfer goods from one location to another.
If your business is experiencing any of the problems above or you want to hear more about how to optimize your order management, purchasing processes etc, we want to help!
No two businesses are alike, hence it is extremely important to carefully map out which processes to automate – and which ones to keep manual. If you're not sure what your business needs, our expert team of consultants are able to assist and help you diagnose the issue.
To find out more about NP retail for your business, sign up for a
free demo
with one of our team of experts at Aristou today! Aristou is proud to be a certified partner of Navi Partner solutions.
🙂